This article is more than 1 year old
Salesforce's revolving door spins amid shopping spree: Co-CEO out, BT alumnus G-Patz up, Vlocity slurped
Plus: World Tour Sydney event goes online only over coronavirus
Lose a chief executive officer, promote a chairman and buy a company: that's how they roll at cloud-based CRM monster Salesforce.com.
Overshadowing its fourth-quarter results, which were rosy enough, Salesforce.com confirmed the departure of co-CEO Keith Block.
After joining from Oracle in 2013, Block became chief operating officer in 2016 and joint CEO a couple of years later. Although reasons for the departure were vague, Marc Benioff, founder and now sole CEO, was oleaginous in his praise of Block.
"Our time together has been amazing," he oozed to investors. "I'm his biggest supporter. I am his close friend. I am here to help him on his journey and as he begins this new journey, we are all with you, Keith. And we're all very excited for you. Now Keith, I know this goes without saying, but you will always be part of our Ohana."
Ohana means "family" in Hawaiian, for those unfamiliar with cultural appropriation. Anyone else need to vom bucket? Just us?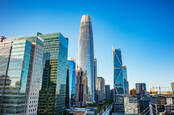 We sense a great disturbance in the Salesforce: File-slinging feature breaks down for more than 12 hours
READ MORE
Block, too, failed to illuminate the thinking behind his exit but took the opportunity to point out that Salesforce.com made $4bn in revenue when he joined in 2013, a figure that mushroomed to $17bn in fiscal '20.
Also on the move is Gavin Patterson, former BT Group chief executive, who Salesforce has promoted to president and CEO of Salesforce International, based in London, four months after he joined as chair of EMEA.
To complete the triumvirate of company news, Salesforce found enough loose change to splash out $1.33bn on Vlocity, a business that builds industry-specific apps on the Salesforce.com platform.
Presumably pocketing a sizable return for his work, David Schmaier, Vlocity CEO and founder, said: "Upon the close of the transaction, Vlocity – this wonderful company that we, as a team, have created, built, and grown into a transformational solution for six of the most important industries in the enterprise – will become part of Salesforce." Which left the small matter of the financial results...
Q4 revenue for the period ended 31 January was up 35 per cent year-on-year, to $4.8bn, beating market expectations. For the year turnover was up 29 per cent to the aforementioed $17.1bn. Salesforce reported a loss before tax of $4m for the quarter and a pre-tax profit of $706m versus $983m.
Keeping the Salesforce revolving door turning, today process-mining company Celonis said Miguel Milano – who led Salesforce's international businesses across Asia-Pacific, Europe, the Middle East, Africa and Latin America – will join it as chief revenue officer and co-owner.
Alexander Rinke, co-founder and co-CEO of Celonis, said it was an "extraordinary win for the company" to recruit a senior exec and investor with experience of leading a $5bn business and managing thousands of employees.
Celonis, on the other hand, broke $100m in sales last year and employs around 800 people. A funding round valued the firm at $2.5bn last year.
Salesforce World Tour Sydney goes online in response to COVID-19 Coronavirus
Salesforce has decided to make its Salesforce World Tour Sydney event, set to start on Wednesday 4 March, online only. "Nothing is more important than the health and safety of our stakeholders. After careful consideration of our stakeholders and reflection on our values, we've decided to change the format of our World Tour in-person event on to be an online experience," the company said on its website. ®