Breaker one-nine, this trucker's rubber ducked, facing a year in the slammer for Acer laptop thefts
Driver gets a-weigh with Chromebook thefts and doesn't get away with it
---
Gevorg Kevliyan, a resident of Decatur, Alabama, was sentenced earlier this month to a year in prison and three years of supervised release – for stealing 900 Acer Chromebook laptops from a truck he'd been hired to drive.
Back in 2017, according to the US Attorney's Office for the Northern District of Georgia, computer maker Acer hired a trucking company to deliver 15 pallets consisting of 900 Acer Chromebook laptops [PDF] worth an estimated $245,000, or about $267 apiece.
The devices were driven from a distribution center in Los Angeles, California to a Costco warehouse in College Park, Georgia. But when they arrived, there were undisclosed problems with the purchase order paperwork, so Costco decided to return them.
Kevliyan was hired to drive the notebooks back to the Golden State.
According to the government, Kevliyan took control of the cargo and later reported it empty, telling investigators that he ended up driving to Chicago, Illinois, to pick up a different load before arriving in California.
But the Georgia Bureau of Investigation (GBI), a state law enforcement agency, found a discrepancy with his tale. Records from a truck weigh-station in Ringgold, Georgia – most US states require large commercial vehicles to stop and be weighed to make sure they aren't destroying the roads – showed that Kevliyan's truck weighed several thousand pounds more than an empty tractor-trailer.
The excess weight just happened to be more or less what 900 boxed Acer laptops on pallets would weigh.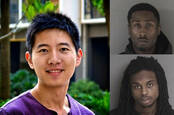 Pair charged with murder, manslaughter after IBM Aspera boffin killed in New Year's Eve laptop theft struggle
READ MORE
Upon arriving in Chicago, GBI agents followed the truck's GPS trail to a warehouse where they obtained surveillance video showing 15 pallets being unloaded from a truck that appeared to be Kevliyan's with the help of an on-site janitor and other unknown men. The janitor, the government said, recounted being paid $250 by the owner of a local business to unload the pallets.
Investigators believe the janitor later helped load the pallets onto another truck with another driver for the same amount. However, the Chromebooks have not been recovered and further investigation appears to be unlikely.
GBI agents also found that Kevliyan had gambled at the Virgin River Hotel and Casino in Mesquite, Nevada, with over $11,000 in cash after arriving from Chicago.
Kevliyan's wife, two sons, and sister submitted letters to the court attesting to their father's otherwise good character and difficult circumstances. The public defender handling the case argued Kevliyan should not be incarcerated because he has Type 2 diabetes, because his offense was non-violent, and because he's remorseful and unlikely at his age to re-offend.
While these pleas may have mitigated Kevliyan's sentence, they didn't keep him out of prison. In addition to serving a one-year sentence, Kevliyan must pay $245,000 in restitution. ®