This article is more than 1 year old
F8 accompli: Facebook, Epic Games, Microsoft, Unity abandon conference plans over coronavirus fears
Big names drop out of GDC, HP axes partner event, stock markets in free fall
Growing concern over the spread of the novel coronavirus has prompted Epic Games, Microsoft, and Unity to announce on Thursday that they are withdrawing from the Game Developers Conference in San Francisco next month. Facebook has also cancelled the meet-and-greet part of its F8 developer conference in May.
"After a close review of guidance by global health authorities and out of an abundance of caution, we've made the difficult decision to withdraw from participating at Game Developers Conference 2020 (GDC) in San Francisco," Microsoft said in a statement, citing the health risks of associated with the coronavirus disease COVID-19. "The health and safety of players, developers, employees, and our partners around the world is our top priority. "
Epic Games and games platform builder Unity said much the same thing, joining others fleeing GDC like EA and Sony.
Facebook meanwhile shuttered the physical portion of its San Jose-based developer event: "[G]iven the growing concerns around COVID-19, we've made the difficult decision to cancel the in-person component of F8 2020."
The RSA Conference, taking place in San Francisco this week, saw AT&T, IBM, and Verizon withdraw but went ahead as scheduled. Nvidia's GPU Technology Conference, to be held March 23-26, is currently expected to continue as scheduled, though the company says it is monitoring the situation and has outlined precautionary measures to protect the health of attendees.
Black Hat Asia 2020, originally scheduled to begin at the end of March in Singapore, was postponed two weeks ago due to health concerns, but may be held this autumn.
The organizers of GDC did not immediately respond to a request for comment.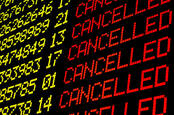 Mobile World Congress now none of those things as 2020 industry megashow axed over coronavirus fears
READ MORE
In response to an inquiry from The Register, a spokesperson for San Francisco's Moscone Convention Center – the biggest in the city – said: "We understand from a handful of show organizers that they have seen a slight uptick in exhibitor cancellations based largely on travel concerns."
Google expects to hold Google I/O in May as planned, though the ad-slinger says it is monitoring the situation and further precautions or changes could be enacted. HP has postponed its partner event Reinvent 2020, due to be held in late March in Anaheim, California. Next week's Open Compute Summit in Silicon Valley is still scheduled to take place.
Joe D'Alessandro, president and CEO of the San Francisco Travel Association (SFTA), plans to address the impact of health concerns on business travel to San Francisco this afternoon at the organization's 2020 Marketing Conference. A spokesperson declined to elaborate in advance of his remarks. According to SFTA, more than 25.8m people visited the city in 2018, spending more than $10bn and supporting more than 82,500 jobs.
The tech conference setbacks come a day after the US Centers for Disease Control and Prevention (CDC) confirmed that a person in Solano County, California, had tested positive for the virus and had no known exposure to another COVID-19 patent or travel history to an area with reported cases.
That suggests, the CDC said, the possible presence of the virus in the local community and would be the first documented transmission by an unidentified source in the US. The health agency said the case brings the total number of COVID-19 cases in the US to 15.
That was on Wednesday. On Thursday at a press conference, California Governor Gavin Newsom said 33 people have tested positive for COVID-19 in the state, five of whom are no longer in the state. The CDC reportedly revised its number of cases in the US to 60 on Wednesday evening, though there appears to be some confusion about whether US citizens evacuated from the Diamond Princess cruise line, quarantined off the coast of Japan, have been counted in these figures.
On Wednesday, President Trump announced Vice President Mike Pence, noted for downplaying the health effects of smoking and relying on prayer to stop an AIDS epidemic in his state when governor, will oversee the US response to COVID-19.
On Thursday, US financial markets continued to be weighed down by investor worries about the business impact of the outbreak. The Dow Jones industrial average was down almost 1,200 points, or about 4.4 per cent, its biggest point decline in a single day.
The S&P and Nasdaq were also down. Companies like Apple, HP, Microsoft, and others have said recently that COVID-19 will affect their financial performance in the coming months.
Outside the US, the outbreak has had more impact, most notably the quarantine of the Chinese city of Wuhan and travel restrictions affecting three-quarters of a billion people.
At the World Health Organization's daily media briefing on COVID-19, Tedros Adhanom Ghebreyesus, director-general of the World Health Organization, said as of 0600 Thursday in Geneva, Switzerland (0500 GMT), China has reported 78,630 cases of COVID-19 and 2,747 deaths. And outside China, there are 3,474 cases in 44 countries and 54 deaths.
"My message to each of these countries is: This is your window of opportunity," said Ghebreyesus. "If you act aggressively now, you can contain this coronavirus. You can prevent people getting sick. You can save lives." ®
Updated to add
GDC has been canceled.