This article is more than 1 year old
Sure, check through my background records… but why are you looking at my record collection?
Where do I see myself in five years' time? On parole with a bit of luck
Something for the Weekend, Sir? We all have something to hide. But as I hinted last week, probably the worst way to keep it hidden is by uploading a video of it to social media.
Young people entering the job market for the first time are warned to fillet their social media history as best they can. It's not just a matter of covering up a one-off display of xenophobia or boorish masculine behaviour: even innocent expressions of desire or emotion can be taken out of context.
For example, if British actor and TV presenter Mark Curry should – heaven forbid – be subject to an attempt on his life by an unidentified ne'er-do-well, you will be regretting that night you staggered out of a pub in Castleford and tweeted: "I could murder a curry."
Not that any of this social media nonsense would apply to me. The last time I was interviewed for permanent employment was in 1992, back in the day when the internet was stored on wax cylinders and there was no social media. Indeed, only 5 per cent of mobile phone users knew how to write an SMS with lower case letters. The interviewer simply read my CV, checked that really was my name in the computer magazines I showed him (I'm no John Smith) and, one hopes, asked my referees to confirm I hadn't betrayed any murderous intent towards late-1980s Blue Peter presenters.
The one thing I wasn't asked to do at my interview was take an exam. I have since learnt that being asked to undergo a live test of competency in the role you are seeking is to be expected.
The first I heard of this requirement was when a "resting" actor, who had been attending one of my InDesign courses in order to seek casual work as a sub-editor, had landed himself a job interview at a newspaper. One morning he kept texting terse queries to my phone such as Word count? or Spell check? and I'd fire back equally curt replies such as Window>Info and Ctrl+I.
Only later did it dawn on me that he'd been surreptitiously messaging me from the job interview while sitting his subbing test.
You can't really get away with such shenanigans when being interviewed for technical jobs. I used to wonder how some drop-file jockey from Human Resources at a big software company would evaluate an applicant's programming skills; ask them to tidy up a code segment or fill in the gaps from multiple choice, perhaps. I can only imagine the text messages I'd get from my coding trainees…
Job applicant:

Variable?

Dabbsy:

If you like. It's all the same to me.

Job applicant:

Executable?

Dabbsy:

I'll execute you if you don't leave me alone. Remember what happened to Mark Curry.

Job applicant:

Semicolon goes..?

Dabbsy:

…up your arse.

Any serious recruiter of programmers these days will, of course, skim off the cream of equally serious contenders through a coding challenge community such as CodinGame. Let the kids have their fun while at the same time proving they can do the business. It certainly beats accepting on trust an applicant who says they have a five-year-old college certificate in Pascal.
What's surprising about applying for jobs in the IT field, though, is that nobody seems to give two hoots about your social media history.
According to data gathered by employment screening company Precise Security, only 5 per cent of recruiters bother to pry into what you've been up to on the likes of Instaspam and Fessbook. A rather more impressive 93 per cent are running public record checks on your criminal history. A not-insignificant 64 per cent don't believe your identification papers are genuine and are actively investigating their veracity.
Some 49 per cent are checking whether you've tested for drug and alcohol abuse. Perhaps that's not so surprising: this is the IT industry after all.
Nor is this an employee-only thing. Freelancers and independent contractors might want to take note that almost 70 per cent of your customers are running background checks on you.
Occasionally, for personal amusement, I apply for a full-time job. It's partly to force myself to update my CV, partly to enjoy the drama of selection process, and not least the opportunity to try out a company's toilets that I would otherwise never get to waz in.
In recent years, however, I struggle to get a rejection letter let alone an interview slot. Is it my age? Are my skills obsolete? I don't suppose being associated with this irresponsible weekly column helps much but I reckon the reason goes deeper. In fact, I suspect that an evil AI has been given the task of investigating my past and one of its evil algorithms has set off evil alarm bells.
Instead of just checking my records, it has been checking my record collection. Now that's what I call evil.
For younger readers, "records" are what we used to call those vinyl music discs that you're all playing. I don't play mine; I don't even have a record player any more. Mme D has been asking me for the last 20 years when I will be donating these records to a worthy cause. Answer: never. Boxes of them even followed me here to France.
And this is my downfall. Because buried in that stack of vinyl is evidence that will incriminate me forever. I know because I only just now got around to unpacking the boxes.
It started gently. At the top of the seven-inch singles was this little gem from 1971.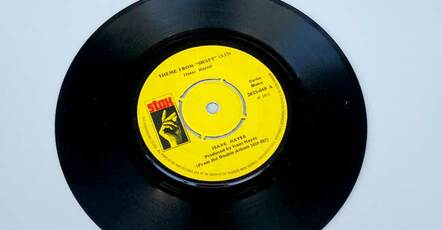 Ah, Isaac Hayes' Theme from Shaft. Still half a lifetime away from Chocolate Salty Balls.
Skip a couple of years to 1973 and we have another classic, this time the heavy yet spangly glam-rock of T.Rex's 20th Century Boy. And it's still in its original T.Rex two-colour sleeve. To think that anyone could contemplate parting with this irreplaceable masterpiece of antiquity, huh!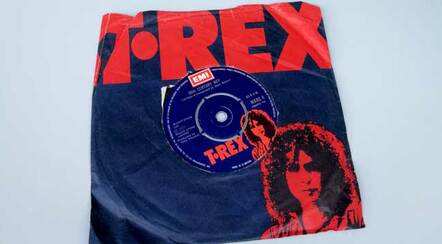 OK, there's a bit of a glut of singles around 1977, such as Queen's We Are The Champions…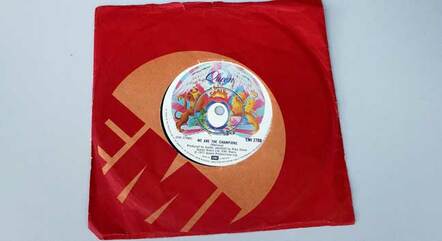 …and ELO's Mr Blue Sky…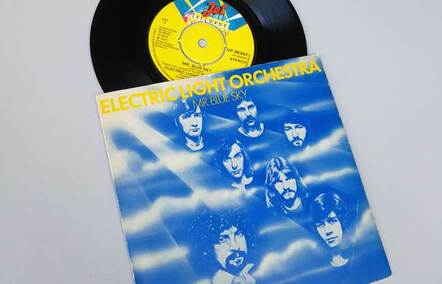 …before shifting sideways into Peter Gabriel's first solo hit, Solsbury Hill…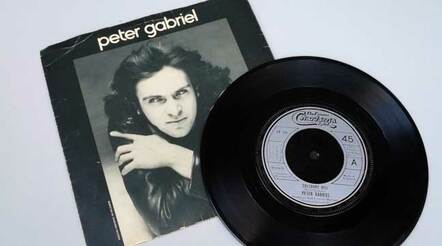 …by which time I'd reached the age of 13 and in 1978 my musical tastes had changed.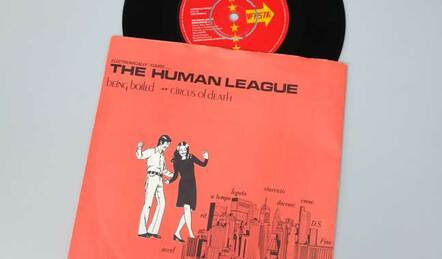 All well and good, I hear you say. But what's this, tucked away among the albums? An early '70s glam-rock compilation in a gatefold sleeve? It certainly looks glittery and it has the word "glitter" on the front.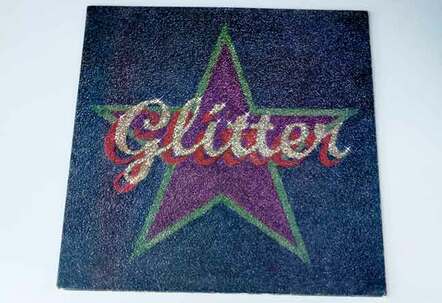 OK, what's around the back?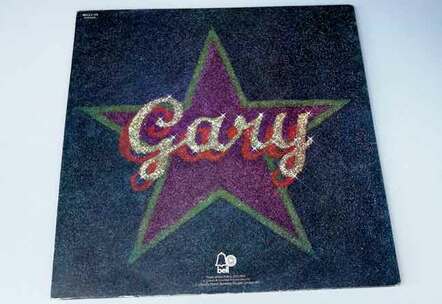 Ah... er, surely not. Let's have a look inside.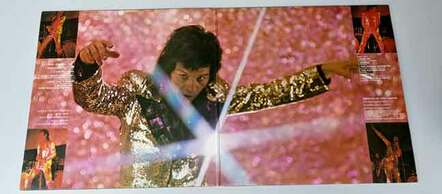 The horror. The horror.
No wonder no one will give me an interview. For the same reason you can no longer laugh at Dance of the Vampires or recite witty dialogue from Woody Allen films in public, I am forever tainted by a serious error in judgement committed when I was seven years old, standing at the till of Woolworth's music department with a birthday record token in my hand.
I mean to say, nobody in their right mind would "wanna touch" someone even remotely associated with such a ghastly skeleton in their closet as this. The evil algorithms have got me!
Oh yeah?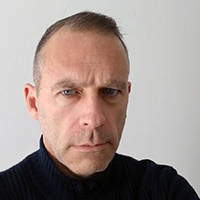 Alistair Dabbs
is a freelance technology tart, juggling tech journalism, training and digital publishing. He feels obliged to declare a personal interest in two things mentioned in this week's column. First, CodinGame is a local company barely 2km from his front door. Second, and more worryingly, he appeared on TV with Mark Curry in the 1970s. He has not spoken with Mark Curry since, nor will he ever now that his record collection has come to light.
@alidabbs
NB: No, it's not Joan Jett.