Vivo has introduced the third generation of its APEX concept phones – the APEX 2020. This handset packs a bunch of new experimental features, largely centred around its display and camera technology, which might eventually make their way to production phones from Vivo and others.
That's the thing – Vivo's APEX phones never actually see a release. They serve as demonstrators of the firm's technology. In some ways, they actually set the tone for the industry. For example, the 2018 Vivo APEX was one of the first phones to pioneer pop-up selfie cameras, which was a design that rapidly reached popularity across the Android sector as manufacturers tried to attain attractive all-body designs.
Typically, Vivo shows off its latest APEX kit at MWC. However, as a result of the coronavirus epidemic spreading across the globe, it has been forced to unveil its latest wares virtually – no 3M mask or gloves required.
The first thing you notice is the 6.44-inch 120˚ curved display, which has no distinguishable bezels when viewed front-on. Instead, the (very slight) border bars are covertly hidden on the side.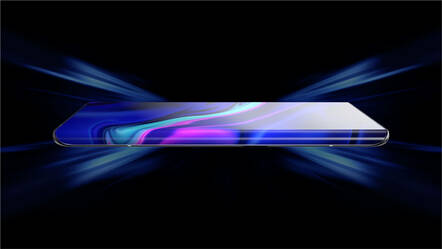 Previous generations of Vivo's APEX blowers have incrementally increased the screen-to-body ratio, thanks to innovations like the aforementioned pop-up camera, which served to displace the somewhat contentious notch design.
Another thing – there's no front-facing camera to be seen, either in the form of a mechanical pop-up or a hole-punch. That's because the selfie camera is physically hidden under the display, effectively making it invisible.
Vivo says it used AI in the 16MP front-facing camera to remove the intrusive light elements that would inevitably creep in from the display. It also uses pixel-binning to improve overall quality and low-light performance by combining four pixels into one larger pixel – ultimately producing a single, smaller 4MP photo.
And then there's the rear camera, which has seen a massive overhaul. With the APEX 2020, Vivo has changed the housing of the camera array to use a gimbal-type structure, which promises to improve stability when recording footage. Given phones can now routinely produce 4K and, in some cases, 8K video, this feels like an obvious step.
Recording stability is one area being actively explored by other phone manufacturers, most notably Google. The biggest difference here is that they've focused on software-driven optimisations, rather than any actual radical hardware considerations.
And it'd be interesting to see how Vivo's effort compares in real-world testing. For what it's worth, the firm says it offers 200 per cent the stabilisation angle of bog-standard OIS (Optical Image Stabilization), which should give it an edge in contexts where the photographer is moving about, like at a gig or sporting event.
That said, gimbals are moving objects. Solid-state items almost always have better durability than those with moving parts, and it'd be interesting to see how easy the mechanism is to repair and maintain (paging iFixit), and whether it holds up to the typical 24-month phone lifespan.
Moving on, the Vivo APEX 2020 packs a two-lens constellation that promises between 5x and 7.5x optical zoom. This should produce clearer shots than those made with digital or hybrid zoom, but as always, the proof will be in the pudding. And sadly, MWC's untimely canning has made it impossible to independently road-test these features.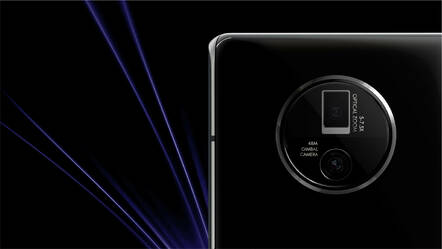 Another addition is the inclusion of 60W wireless fast-charging, which Vivo says can charge a 2,000mAh battery in just 20 minutes. It's unclear whether the APEX 2020 comes with such a small battery – the specs sheet simply doesn't say – although it'd be odd, particularly when most phones are shipping with batteries north of 5,000 mAh. I'm also curious as to how Vivo managed to handle thermal concerns while wirelessly pumping through such an incredible amount of juice.
The Vivo APEX 2020 packs a Qualcomm Snapdragon 865 platform, with an X55 modem. The reference device also includes a generous 12GB of RAM and 256GB storage.
The APEX 2020 won't be coming to a Carphone Warehouse near you, but it's certain that many of the features offered within it will appear on later devices from Vivo – as well as other manufacturers within its stable, including OPPO, OnePlus and RealMe. ®