This article is more than 1 year old
Chipzilla or Chipzooky? If Intel's server CPU sales keep on shrinking, El Reg will have to update the branding
Still a monopoly in Western Euro channel, but it's smaller: shortages and AMD ROME burning Intel market share
It isn't just in PCs that Intel's vice-like grip is weakening – its share of server CPU sales for standalone build-to-order (BTO) options and upgrades has also crashed in Western Europe due to protracted production issues, exploited by a resurgent AMD.
Or so says Context, armed with sales data from distributors across the region that show Chipzilla shipped 75,766 units in Q4 2019 compared to 89,191 a year earlier, down 15 per cent and reducing its market share from 98.4 per cent to 79.8 per cent. The figures do not include finished server sales running on Intel.
By contrast, tech wholesalers reported 19,123 sales of AMD server CPUs – sold as part of a BTO or custom config transaction or to upgrade an existing system – and this was up 1,405 in Q4 2018, bumping up AMD's share of sales to 20.2 per cent, up from 1.6 per cent.
Gurvan Meyer, enterprise analyst at Context, said the numbers in Q4 flattered AMD, they were "a bit inflated… due to specific important deals. But there is no doubt AMD market share has increased during 2019."
Meyer said two factors prevailed: The "Intel CPU shortage, which started to impact the data centre segment at the end of 2019, and a highly performant AMD ROME architecture."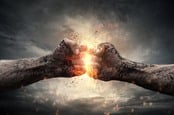 AMD sees Ryzen PCs sold with its CPUs in Europe as Intel shortages persist
READ MORE
ROME debuted last summer and was billed, by AMD CEO Lisa Su, as the "highest performing x86 processor in the world" – chip vendors aren't known for underplaying speeds and feeds. The second instalment in the Epyc server CPU line, ROME was seen as a way for AMD to gain ground against Intel.
Intel's well-documented shortages showed up mid-2018 as the company struggled to switch to 10nm manufacturing processes in the face of furious demand from hyperscalers, branded server-makers and PC OEMs.
The PC OEMs were the first to feel the squeeze as Intel prioritised supply to higher-margin Xeon-grade chips but as The Reg reported late last year and earlier this year, all of the big server brands are now feeling the pinch too; it is just that some are more transparent about their issues than others. Looking at you, Dell.
In recent weeks, we revealed the extent of Intel slides versus AMD's in the Western Euro PC market that is served via distribution.
Intel has told us on several occasions it is trying to ramp capacity but that demand growth has outpaced supply.
AMD told us it has no comment. Intel didn't respond to an email requesting comment. ®