We're Finnished: Nokia replaces CEO Rajeev Suri in industry Lundmark decision
Man who steered firm from burning platform now steps away: 'I want to do something different'
Nokia Oyj will say jäähyvästi to current CEO Rajeev Suri in September, replacing him with Pekka Lundmark – who currently heads energy firm Fortum.
The move will be formalised on September 1, 2020, when Lundmark takes the reins. Suri will remain as an advisor to the Nokia board of directors until January 1, 2021.
Lundmark is a logical hire for Nokia, and has a background in the space, having worked for Nokia in various executive positions between 1990 and 2000.
The Finn holds an MSc in Information Technology from the Helsinki University of Technology. In addition to the state-owned Fortum, which operates power plants across Europe and India, he also previously headed Konecranes – which, as you've likely guessed, makes cranes.
Suri, on the other hand, has worked at Nokia since 1995. The Singaporean national was appointed CEO in 2014, following the tumultuous tenure of Stephen Elop, which resulted in the once-dominant handset manufacturer selling its entire phone business to Microsoft.
"With the acquisition of Alcatel-Lucent behind us and the world of 5G in front of us, I am pleased that Pekka has agreed to join Nokia," said Risto Siilasmaa, Nokia Board Chair, in a statement.
"He has a record of leadership and shareholder value creation at large business-to-business companies; deep experience in telecommunications networks, industrial digitization, and key markets such as the United States and China; and a focus on strategic clarity, operational excellence and strong financial performance."
Shares in the company recovered slightly, raising 3 per cent in early trading, reducing its 12-month decline to 33 per cent.
Suri said in a statement that had a distinctive air of being ready to get his coat: "After 25 years at Nokia, I have wanted to do something different... Pekka is an excellent choice for Nokia. I look forward to working with him on a smooth transition."
The shuffle comes as Nokia faces increasing pressure on its bottom-line, thanks to fierce competition from Huawei and fellow Scandinavian infrastructure firm Ericsson.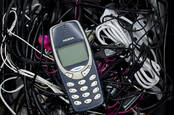 Nokia said to be considering sale or merger as profits tank
READ MORE
Although Huawei is prohibited from providing the core infrastructure to US, UK, and EU networks, it has managed to aggressively grow elsewhere thanks to its relatively affordable kit.
Meanwhile, rival Ericsson has managed to capture a significant amount of momentum (and, crucially, market share) from Huawei's woes, inking deals with some of the biggest national 5G networks across the West, including AT&T, Sprint, Verizon and Vodafone.
In October, Nokia downgraded its financial outlook and cancelled its planned dividend for Q3 and Q4 of the 2018 fiscal year. According to recent reports, the firm is entertaining the possibility of merging with another business in the sector or selling some of its assets to a competitor. ®