Back in my day, a Pro Plus was a tiny sugar-coated pill that dragged me through the ennui of a Computer Science degree. If I took enough of them, I thought, the dancing C++ syntax on my screen would start to make sense and I might – just might – scrape through my dissertation clutching a 2:1.
A bit less than a decade later, "Pro Plus" means something different – a variable-height standing desk from US firm VariDesk. A while back, VariDesk mailed me their 36cm model. Much to the displeasure of my wife, it came in a massive, flat-packed box that could easily have doubled as a Domino's pizza box for a Midwestern family of four.
Fortunately, the VariDesk Pro Plus 36 doesn't require any assembly. It comes ready-to-use, with the only real graft being the effort required to pick it up and whack it on your desk. It's undeniably heavy, and unless you fancy spending time at your local spinal injury clinic, you'd be well advised to get some help picking it up. But once it's on your desk, it stays put with the resolute fortitude of an Extinction Rebellion protester blockading an airport.
The desk comes with two tiers: a top one that comfortably fits two 30-inch displays (albeit at a bit of an angle) and a MacBook Air, and a smaller bottom one that's big enough to house a full-sized keyboard and a mouse. The bottom tier is relatively small, and you'll find it more ergonomically comfortable to use a trackpad, like the Apple Magic Trackpad.
Underneath the desk, there are a couple of flexible handles that, when pulled, allow you to raise the standing desk. This mechanism isn't powered, but it shoulders most of the burden, allowing you to raise it without much exertion.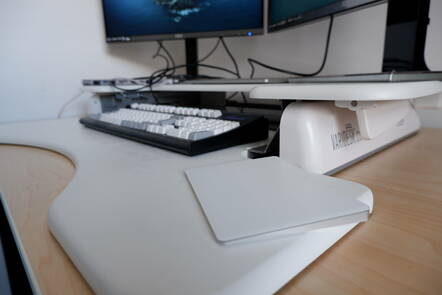 VariDesk handles
You can vary the height of the standing desk by lifting it as much as required. At its apogee, the desk protrudes out slightly, which makes it less than ideal for the most cramped of workplaces. That said, if you're working from your own private room, it's not that much of a big deal.
VariDesk certifies the desk for up to 15.8kg, though I've massively exceeded this limit without having the entire contraption falling apart on me. As with all things in life, your mileage may vary, and I am not a doctor.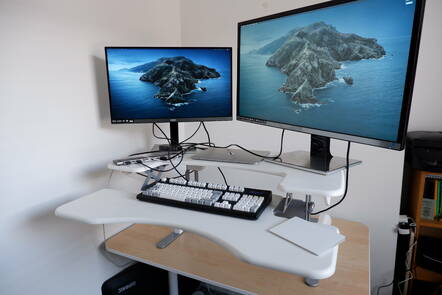 ARISE LAZARUS
Standing desks are divisive, with some swearing by them, and others preferring to luxuriate in their Ikea office chair. Personally, I find the VariDesk Pro Plus 36 has allowed me to break up my workday into standing and sitting periods.
Am I more productive working stood up? Not really. But I do feel a bit more alert when I'm on my feet, and able to focus more on a single task at hand.
Though it takes some getting used to, you can reduce the strain on your knees by investing in a solid standing mat. VariDesk sells their own, but I grabbed mine from Amazon for a bit less.
The VariDesk Pro Plus 36 retails at £365, which is pricey, but not too bad compared to dedicated standing desks, which can easily cost around £1,000. It wins points by not requiring assembly, although I would have loved a bit more space on the lower tier to house peripherals.
If you're fussy about colors, the Pro Plus 36 comes in both black and white variants. They're also delightfully easy to clean, which is good if you're liable to knock over the occasional brew – as I am. ®