This article is more than 1 year old
HP hostile takeover warms up: Xerox queues print job cash_and_shares.pdf, mails it to the board to mull over
PC-and-printers biz will 'carefully review and evaluate the offer' before, presumably, deciding: No
Xerox is going for it: this morning it officially inched forward in its effort to forcibly acquire troubled PC-and-printers slinger HP amid repeated attempts by HP's board to strangle the plan.
"HP today confirmed that Xerox Holdings Corporation has commenced an unsolicited exchange offer to acquire all outstanding shares of HP common stock for consideration consisting of cash, Xerox common stock, or a combination thereof," HP said in a press release. In other words, Xerox has offered to snap all outstanding shares of HP in a hostile takeover, and the HP board has to decide whether or not it's cool with all of this.
Despite making it plain it doesn't want to sell – including adopting a poison pill measure to put off Xerox, and promising to return $16bn to stakeholders – the HP board is, however, obliged to properly consider the offer, as its statement begrudgingly admitted:
"The HP Board of Directors will, consistent with its fiduciary duties and in consultation with its independent financial and legal advisors, carefully review and evaluate the offer to determine the course of action that the Board believes is in the best interests of the company and all HP shareholders."
Xerox is offering $24 a share: $18.40 in cash and the rest in Xerox shares. HP Inc's shares are right now $21.22 apiece. The photocopying giant claims it will be able to save $2bn a year in costs by merging the two tech companies, and add another $1bn in revenue growth if the merger goes ahead.
Initially, back in November, HP rejected the offer, talking about how it expected "continued success" with its current strategic plan. But when it was clear Xerox wasn't going to be easily fended off, earlier this month HP adopted a protective measure – aka a poison pill – that would offer discounted stock if any group acquired more than 20 per cent of HP's shares.
Concerned
At the time HP chairman Chip Bergh said the board was "very concerned about Xerox's aggressive and rushed tactics, and any process that is not based on full information is a threat to our shareholders."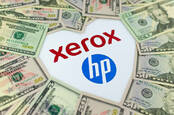 HP Ink: No way, Xerox. We're not accepting your takeover. Well, we'd never say never. Maybe even maybe? Hello, you still there? Please?
READ MORE
The whole process has seen HP's share price slowly rise – reaching $23.35 the day before HP was allowed to state publicly what its thoughts were about the proposal. These thoughts were strongly negative: the Xerox bid was "a fundamentally flawed value exchange," as well as "an irresponsible capital structure," and the deal was overstating how much money would be saved, the board argued.
Nevertheless, under its fiduciary obligations, HP said it would continue discussing a deal to see "if there is a combination that creates value for HP shareholders that is additive to HP's strategic and financial plan." The share price at the time dropped to $20.80, indicating that the market decided the deal was probably off.
HP's plan, incidentally, was to cut costs by $1bn, return billions to shareholders, and increase its share repurchasing to $15bn. In other words, it reacted to Xerox's takeover offer by presenting investors with a money souffle with a cherry on top if it sticks with the current situation. And then the board claimed it was open to a takeover. HP remains a company happy to live with internal contradictions.
"HP shareholders are advised to take no action at this time pending the Board's review and evaluation of the offer," its release today stated. "HP intends to advise shareholders of the Board's position regarding the offer within ten business days."
In other words, HP's board is hoping to come up with a very convincing No in the next week. It will need to be convincing because HP's share price started rising again after it announced Xerox has formally moved forward. It is up more than two per cent – suggesting some feel the deal is not over yet.
Xerox's share price is up 1.70 per cent to $32.72 apiece at time of writing. ®