This article is more than 1 year old
AWS to double sales droids as Google, Microsoft's growing clouds threaten to gobble larger slices of Bezos' pie
Experts drafted in to help new hires answer customers' technical questions
Amazon Web Services plans to double its sales staffing numbers this year in the face of mounting competition and slowing growth.
The hiring spree, reportedly announced in a sales meeting in Chicago in January, will bring in security, AI, and data analytics specialists to help AWS's sales staff answer technical questions from customers and sell more services.
The exact size of AWS's sales team is a closely guarded secret, even to its own staff. The cloud biz's chief suit, Andy Jassy, has said the number was in the "thousands" in a 2016 interview, and it has likely grown considerably since then.
AWS dominates cloud computing, munching 32.3 per cent of the market, according to Canalys. That's well ahead of Microsoft's 16.9 per cent and Google's 5.8 per cent.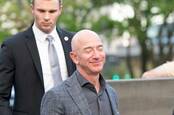 The winners and losers of infrastructure clouds revealed: AWS, Microsoft, Google and Alibaba get fatter
READ MORE
But the Jeff-Bezos-run titan's enormous growth has begun to slow recently as other providers catch up. Of the big four cloud providers, Google grew the most last year, swelling 87.8 per cent, Microsoft came in second, with 64 per cent growth. Alibaba was close behind with 63.8 per cent. But AWS's growth, at 36 per cent, was half that of its nearest rival.
AWS still posted the biggest revenue increase in absolute terms – with $9.2bn compared with Microsoft's $7.1bn – but many saw the pair's recent financial results as an early sign that rival services were beginning to catch up with Bezos' behemoth.
Google Cloud's chief exec, Thomas Kurian, recently committed to tripling the size of his sales team as part of a wider restructure. The former Oracle exec has pushed for more services to woo enterprise customers, and is looking to expand Google's reseller network.
Last week, the company inked a deal with LA-based service provider SADA to resell $500m in Google Cloud services over the next three years. Google plans to invest $10bn into data centres and offices across the US this year.
Arch-rival Microsoft has shifted its focus to aggressively target Amazon's cloud clients. The strategy is working, according to some analysts. Last year, Redmond surprised everyone by beating AWS to win the US Department of Defense's $10bn decade-long JEDI IT supply deal, which seeks to switch the the US's military data over to the cloud. AWS appealed the decision and was granted a pause on the contract until the courts came to a decision on whether or not it was awarded fairly.
The new hires make up the first sales shakeup at AWS in several years. Up to now, the cloud giant has focused on selling basic building block services, such as its cloud servers and storage. But the company is now shifting focus to finished products, like Pinpoint, which helps manage marketing campaigns, and Fraud Detector, a service the company is currently testing that detects online fraud. Other AWS services include Outposts and Local Zones.
Amazon recently reported revenues of $280.5bn – up 20 per cent on the previous year. About a tenth of this came from AWS, which generated $35.03bn. ®