Microsoft's latest cloud innovation: Printing
Now without all the mucking around on-premises
---
Universal Print, a new Microsoft Azure service now in private preview, allows printers to be registered with Azure Active Directory so users can print to them via the cloud.
"Universal print moves key Windows Server print functionality to the Microsoft 365 cloud so organizations no longer need on-premises print servers and do not need to install printer drivers on devices," the company said.
The service ties in with the ability to join Windows PCs to Azure Active Directory, the cloud-based directory used by Office 365, which Microsoft said will have easy access to Universal Print.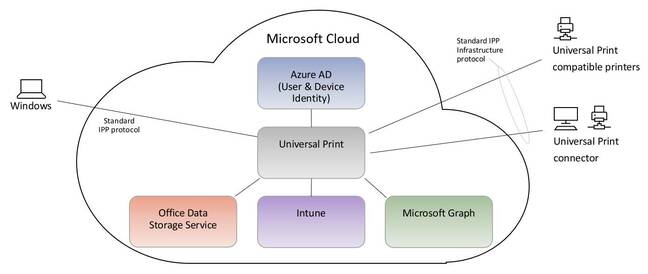 Azure Universal Print architecture diagram
Printers that have native support, specific drivers for Universal Print in other words, will give "the best cloud experience," according to Microsoft, but other printers can be supported via a Universal Print proxy application. Initial support from Canon is mentioned. Currently Windows 10 1903 or later is required. Windows 7 support is not mentioned, and the word "subscription-based" features in the documentation, suggesting that it may be extra cost or at least require Microsoft 365, which includes cloud-based device administration as well as Office 365 services.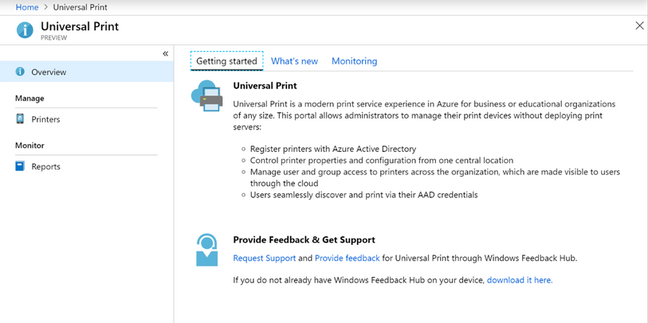 Universal Print has been announced for Microsoft Azure
Does Microsoft not already have cloud printing?
Yes. It is called Windows Server Hybrid Cloud Print. This service requires a hybrid on-premises/cloud setup with Azure AD Connect, and has a complex setup procedure involving an on-premises print server, PowerShell scripts, manual registry editing, and an application called MopriaCloudService. The intricate setup and the requirement for on-premises servers makes it unsuitable for many smaller organisations.
Google has a Cloud Print service, which it is abandoning, having said: "We recommend that you find an alternative print solution and migrate your print services by the end of 2020. For devices running Chrome OS, we recommend native printing (CUPS). For other devices or multi-OS scenarios, we recommend the respective platform's native-printing infrastructure or working with a print-solutions provider."
Why is Microsoft jumping in while Google performs its familiar trick of pulling a useful service? The answer is that Microsoft is trying to persuade customers to migrate to cloud-based IT administration, and printer management was a missing piece. Google, on the other hand, is not invested in on-premises computing and may well see printing as something to discourage in favour of cloud-based collaboration. ®