BT's Openreach today launched an IP-based network that aims to ultimately replace the UK's public switched telephone network (PSTN), which carries analogue voice communications.
The service, SOGEA (Single Order Generic Ethernet Access), will allow retailers to offer standalone broadband products without necessarily bundling a landline service, which can add extra cost to consumers.
Retailers will also be able to offer VoIP-based landline products to customers who still want a fixed phone.
Openreach aims to switch off the PSTN by 2025, which will require the industry to migrate 50,000 customers each week between now and the deadline.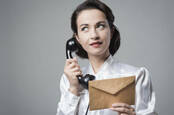 Switch about to get real: Openreach bod on the challenge of shuttering UK's copper phone lines
READ MORE
SOGEA has previously only been available to communications wholesalers on an early-deployment basis. This meant that providers were effectively selling a product that was "in beta" and could change.
Infrastructure provider Openreach hopes that the formalisation of the product will entice more users to switch.
Speaking to The Register, Gordon Cannon, SOGEA product lead at Openreach, described the switch as monumental. "This is a significant day, because we're providing the product to retail communication providers. It's giving them the commercial confidence that they can provide new digital products customers and start the migration to new IP-based infrastructure."
It's not just phone calls that use the analogue network — security alarms, accessibility devices and more also rely on it. Cannon said he looks forward to seeing how retailers will use SOGEA by supporting technological integrations, as well as their disabled users.
"It's hard to comment on what retail providers will do, but I should imagine that providers will look to make voice communications more accessible for hard-of-hearing users — as well as introduce anti-spam innovations," he said.
SOGEA's about "the quality of the call and accessibility of the call, principally," he added.
And while SOGEA holds promise for end-to-end users, it'll likely also help Openreach's bottom line. By doubling down on fibre, the infrastructure provider will no longer have to maintain two separate networks, which is expensive in terms of financial and human resources. ®