This article is more than 1 year old
Brit MPs, US senators ramp up pressure on UK.gov to switch off that green-light for Huawei 5G gear
Fears grow that letting Chinese giant into Blighty has left it 'utterly friendless'
A bipartisan coalition of US senators has urged Britain to reconsider its decision to permit "high-risk" vendors, namely China's Huawei, to supply non-core elements of the national 5G network.
In a letter [PDF] signed by Senate Minority Leader Chuck Schumer (D-NY), Intelligence Committee chairman Richard Burr (R-NC) and 2016 Presidential wannabe Ted Cruz (R-TX), the stateside politicians pleaded with Parliament to "revisit" the arrangement.
"Given the significant security, privacy, and economic threats posed by Huawei, we strongly urge the United Kingdom to revisit its recent decision, take steps to mitigate the risks of Huawei, and work in close partnership with the US on such efforts going forward," the American gang stated.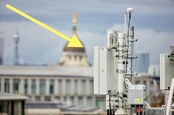 UK to Chinese telecoms giant: From 5G in Tiree to the Isles of Ebony, carry me on the waves… Sail Huawei, sail Huawei, sail Huawei
READ MORE
"It is our understanding that the security and privacy risks surrounding Huawei technology cannot be effectively mitigated because of the unique software dependencies of 5G."
The senators also called on the UK – in collaboration with other "trusted partners" including Japan, Canada and Australia – to create a comprehensive strategy to secure 5G networking infrastructure.
This strategy would encompass existing Huawei kit, plus inject fresh investment in domestic supply chains, and improve intelligence sharing between partner countries pertaining to 5G security.
This latest bipartisan salvo follows a great deal of pressure on the UK government to shut out Huawei, both before and after the publication of the Department for Digital, Culture, Media and Sport's guidelines. Senior US politicos have threatened that intelligence sharing and a post-Brexit trade deal could suffer should it refuse to close the down on Huawei.
Order, order
Pressure has also been applied on the British government from within Parliament. Earlier today, Tory MP Iain Duncan Smith gave a speech where he described the guidelines as having left the UK isolated and "utterly friendless among our allies".
"In the rush to go ahead with the 5G system for the UK using Huawei's products extensively, the UK Government have brushed aside the concerns of all our most important allies and the people we generally rely on," said Duncan Smith.
He also criticised the new rules for permitting 35 per cent of Huawei's gear in non-core elements of the network, describing the figure as "plucked from thin air".
"Imagine that in 1939 we had been developing our radar systems and decided to have one of the Nazi companies in Germany directly involved. Oh, but we reduced their involvement to 35 per cent, so they only controlled 35 per cent. I wonder how ridiculous that would have seemed," he said.
Meanwhile, on the opposite side of the benches, Shadow Digital Minister Chi Onwurah has posed 10 questions to the government asking about the enforceability of the new rules, and specifics on how it'll reduce the country's usage of "high-risk" kit.
Onwurah also asked how the telco industry had "got itself into a position that our critical national infrastructure is so dependent on one high-risk vendor", which, to the keen observer, feels like something of a red herring.
Not one company possesses a monopoly on cellular network infrastructure. The market is shared by a plural group of players – including Nokia, Ericsson and, yes, Huawei. And while it's not easy to find an accurate UK market share breakdown, an estimate from Vodafone CEO Nick Read suggests Huawei holds 28 per cent of the European market.
Here comes the charm offensive
On a tangential note, Huawei has said that it will build its planned French factory, regardless of whether the Emmanuel Macron government bars its equipment from the national 5G network.
The Chinese giant is expected to spend €200m on a plant that will construct mobile base stations, employing up to 500 people. The location for the facility has yet to be announced, but it's likely Huawei believes that by shifting some manufacturing activities to the West, it'll be able to lessen suspicions.
"The plant will be built in France, whatever the French government's decision, as it is part of our strategy," Minggang Zhang, Huawei France's deputy CEO, told Reuters.
On the same day, rival firm Ericsson announced that it had produced its first 5G base station from its factory in Lewisville, Texas. The facility, which is not yet fully operational, builds the company's millimetre-wave Street Macro product, and uses automation throughout much of the manufacturing and logistics process.
Ericsson has proven successful in the US market, inking deals with the likes of AT&T and Sprint.
The Register has asked Huawei for comment. ®