This article is more than 1 year old
Can you hear me now? Roadtesting Anker's first Bluetooth speakerphone
Look, Ma! No hands!
Conference calls are an inevitable part of corporate life. But how do you reconcile that with life on the road, away from your pricey Polycom system? Devices like Anker's PowerConf portable speakerphone may help.
Anker is somewhat of an interesting duck. It is perhaps best known for its cables and portable batteries, which litter Amazon like cigarette butts on a beach. But in recent years, it has expanded its product lineup to encompass consumer audio products, projectors and smart home devices – like its Eufy RoboVac line of autonomous hoovers.
The PowerConf is yet another device in its stable, albeit one that caters more to a business audience than the Average Joe. And while it comes with a slightly chunky price tag, some will find it justifies its inclusion on your annual expense reports.
The device is a touch bigger than a hockey puck – albeit squarer with rounded edges. On the bottom, there's a rubber element that stops it slipping about – handy, given the propensity for certain chain hotels to use glass surfaces on their work desks. Largely constructed out of metal, and tipping the scales at about 340g, the PowerConf has a comforting weight about it, making it feel delightfully premium.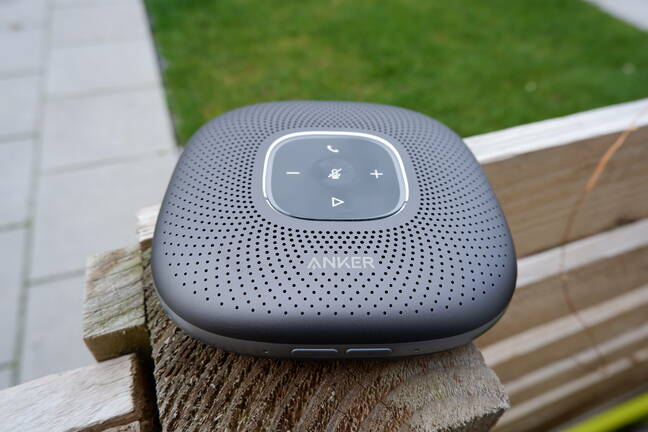 That high-end feel is also apparent while making calls. The PowerConf packs an excellent speaker, which produces none of the sibilance you'd expect from cheaper audio units.
Pocking the device is a constellation of six microphones, which can pick up noises from across the room. All the while, it did a decent job of filtering out undesired background noise and limiting irritating echoes. It did a sterling job of hiding the sound of excavators driving down my street, which is the routine peril of living adjacent to a busy building site.
Whether it'll drown out the sound of your hotel neighbour blasting out pay-per-view grumbleflicks, I cannot say.
And while the PowerConf impressed on clarity, I was also keenly pleased to see it had a decent range. I could place the speakerphone on my desk, walk across my office to the couch, and still register clearly to the other party.
Anker makes a lot of batteries so it's no surprise it's chosen to give the PowerConf a 6,700mAh whopper, which the Chinese manufacturer reckons will give you 24 hours of talk time.
You can also use the speakerphone as a power bank, thanks to its USB-A port, although this'll obviously hamper your talk time, especially given that phones now routinely come with batteries as big as 5,000mAh. Charging is done via USB-C, and there's also an auxiliary jack for outputting sound.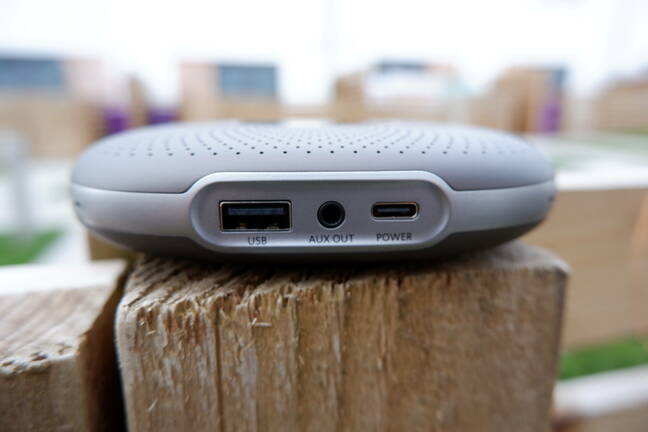 You can use the USB-C port to connect your device straight to your laptop, which immediately registers as an audio device, with no need to faff about with drivers. It also supports Bluetooth 5.0, allowing you to connect to mobile devices in an OS-agnostic way.
Overall, the Anker PowerConf gave me better performance and ergonomics than I would get with my phone's built-in speakerphone. As a journo, I spend a lot of time on the dog and bone talking to vendors, flacks, and analysts alike. This is the kind of thing I could easily imagine making my working life easier.
The Anker PowerConf retails on Amazon for £100, and at the time of writing, you can get £15 off by applying a voucher.
This - without the discount - is slightly pricier than the Logitech P710e and the Jabra Speak 510, which cost £75 and £90 respectively. That said, both devices lack some of the flashier features of the PowerConf, including the 24-hour battery life and USB powerbank functionality. ®