There's no Huawei we're taking this lying down: Chinese mobe maker denies US govt racketeering charges
Discovery in this case could get very interesting indeed
Huawei has pleaded not guilty on Wednesday a New York court to Uncle Sam's charges it robbed, racketeered, and wire frauded itself to technology success.
The case was brought by the US government against a bunch of Huawei firms and subsidiaries, including Huawei Tech, Huawei Device USA, Futurewei Tech, and Skycom Tech.
The wide-ranging case covers Huawei's alleged trading with Iran and North Korea in breach of UN Security Council embargoes as well as claims that the company has stolen intellectual property from US firms since at least 2000. Charges include racketeering conspiracy, conspiracy to steal trade secrets, conspiracy to commit wire fraud, and bank fraud. The telecom biz is also accused of making false statements to the US government in relation to its dealing with entities in North Korea and Iran.
The indictment names Wanzhou Meng, also known as Cathy Meng – Huawei's chief financial officer and daughter of company founder Ren Zhengfei. She is still under house arrest in Canada fighting extradition to the US.
Huawei is accused of "misappropriating the intellectual property of the Victim Companies." It did this by entering and then breaking confidentiality agreements with companies, recruiting their staff, and using academics and workers at third-party companies to steal IP. Prosecutors even allege Huawei had a bonus scheme in place to reward staff for stealing rivals intellectual property.
Part of the case refers to internet router code pinched from "Company 1." With a hat tip to Reg commenter The Man Who Fell To Earth, we think this may refer to this row which Cisco blogged about.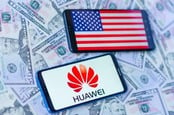 One man is standing up to Donald Trump's ban on US chip tech going to Huawei. That man... is Donald Trump
READ MORE
Other allegations include a Huawei staffer creeping around a trade show in the middle of night and removing covers from networking gear in order to photograph the circuitry inside.
Another engineer is accused of sneaking into a rival firm's lab in order to pinch a robot arm used for testing mobile phones. The robo-arm was measured and photographed before being returned, the US claims.
Six separate, anonymous, companies are used as examples of IP theft in the 56 page indictment.
The case, number 18-cr-457, is being heard by in the Eastern District of New York.
We've asked Huawei for a response but have yet to hear back, but the Chinese mega-corp reacted robustly when the charges were first brought.
It said last month: "This new indictment is part of the Justice Department's attempt to irrevocably damage Huawei's reputation and its business for reasons related to competition rather than law enforcement."
"The 'racketeering enterprise' that the government charged today is nothing more than a contrived repackaging of a handful of civil allegations that are almost 20 years old and that have never been the basis of any significant monetary judgment against Huawei. The government will not prevail on these charges which we will prove to be both unfounded and unfair."
Whatever the rights or wrongs of the case, it does look like some evidence will see light of day in a court, unlike the various claims of 5G back doors made against the Chinese giant. ®