This article is more than 1 year old
Computer, deactivate self-destruct system requirement, says Sonos... were it on a starship in space, and not a smart-speaker slinger
Audio gear maker drops 'recycle mode' aka 'e-waste mountain candidate'
Sonos will no longer force customers to permanently brick their smart speakers when trading them in for newer models.
The gizmo maker is, essentially, doing away with the requirement for so-called "recycle mode" in its hardware trade-in offer. Last October, Sonos introduced a program called Trade Up through which punters could buy new stuff with a 30-per-cent discount – if they sent in their old speakers with recycle mode activated. That mode, after 21 days, deletes all data from the device, and renders it permanently inoperable.
That permanent bricking part drew criticism from eco-friendly punters and repair advocates, who said the internal time bomb prevented the devices from being refurbished, resold, and reused, forcing the electronics to unnecessarily join the growing mountains of e-waste.
"Trade Up was designed to help customers transition from legacy products to modern Sonos experiences," a spokesperson for the manufacturer told us on Thursday.
"We also respect the customer's right to decide for themselves when a product has reached the end of its useful life. So, while we are fully committed to supporting customers that wish to recycle their old hardware, we removed the Recycle Mode requirement from the program."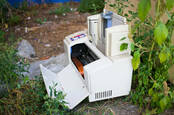 Built to last: Time to dispose of the disposable, unrepairable brick
READ MORE
Now, customers will simply have to submit the serial number of their old gear to get the 30 per cent discount, thus allowing the old devices to be recycled, given away, or even sold, while still operational.
The spinner continued: "Customers can initiate the Trade Up process on sonos.com and will be directed to call their local customer support team to provide the serial number of their eligible device and receive the discount. The Trade Up website will be updated in the coming weeks."
You may recall CEO Patrick Spence, back in January, personally apologized after Sonos floated a plan to end support for older speakers and make them incompatible with newer gear. ®
Hat tip to Engadget for bringing Sonos's policy change to our attention.