This article is more than 1 year old
Clearview said to be chasing every mugshot taken in the US over the last 15 years to paste into its facial-recog system
And more creepy surveillance AI news
Roundup If you're sick of hearing about the coronavirus outbreak, you can take a breather here. There will be no further mention of the disease, just loads facial recognition misuse and a few other bits and bobs.
Facial recognition on police body cams
Two police officers in New Mexico will test body cameras that can perform facial recognition in real time.
Live facial recognition is a controversial subject. Although a few US cities in California and Massachusetts have banned local government agencies, including law enforcement, from using the technology, there is little regulation. So it seemed like it was only a matter of time before police began incorporating facial-recognition capabilities into its body-worn cameras.
According to OneZero's Dave Gershgorn, Los Lunas Police Department in New Mexico has decided to test out a facial-recognition app this week. Two police officers will download the app onto Android smartphones to process images of faces scanned by their body cameras.
The hardware and software will be supplied by Wolfcom. The Halo camera has been marketed alongside a dizzying array of products and services that Wolfcom calls a "complete ecosystem", which includes some kind of central software, "evidence management system", that acts as a hub to process, store and back up data captured by the app, the body camera and a dashboard camera.
The whole package appears to give law enforcement the capability to perform facial recognition in real time using the app, or officers can upload footage to Wolfcom's software to store and analyze later. The body cam manufacturer, based in Pasadena, California, claims to have sold kit to 1,500 police departments, federal agencies and universities in the US.
How many of these are actually integrated with facial-recognition technology is unknown. Wolfcom has been trying to get other law enforcement departments in Bakersfield, California, and Hardin County, Ohio, to test its latest Halo camera, however.
There are also many other muddy details too: how accurate are Wolfcom's algorithms? What databases do the police share with the company in order to identify people of interest?
What is clear, however, is that live facial recognition is coming to police body cameras as officers begin trialing the technology in areas where there is no regulation to stop it.
Give us all the mugshots!
Ah yes, Clearview, the startup everyone loves to hate, is back at it.
The New York outfit stands out among other companies trying to sell facial-recognition software to law enforcement for one reason: it scraped pictures off people's public social media accounts to build a database with over three billion photos. That means that those lucky enough to have avoided an encounter with the cops could also be identified with Clearview's app if our faces are stored in the database, making it an invaluable tool for law enforcement agencies.
Now, it turns out that the naughty startup has been working on collecting another wad of data. Clearview reportedly wants every mugshot taken by law enforcement agencies across the US over the last 15 years.
In an email, the Green Bay Police Department in Wisconsin asked the AI biz if it could upload mug shots to Clearview's app to identify suspects. A Clearview employee replied: "We are… working to acquire all US mugshots nationally from the last 15 years, so once we have that integrated in a few months' time it might just be superfluous anyway."
How far Clearview has got in its efforts is unknown; it would require the cooperation of numerous law enforcement agencies, after all. But it does show Clearview's aspirations of building what looks like some dystopian surveillance state that can match just about anyone's face against image against a giant database for identification.
CEO wants to collect live data streams for predictive policing
Speaking of creepy surveillance states, Utah has been working with AI company Banjo to flesh out what it calls "live time intelligence", its system that allows people to "know exactly what is happening, where it is happening, the moment it happens"... for the purpose of saving lives.
State officials signed a five-year contract last year in July, agreeing to hand over data recorded from CCTV cameras, traffic cameras, 911 calls, and video and audio recordings of city council meetings across numerous cities and counties across Utah.
Banjo also pockets $20.7m to process all that data and feed it into its internal software so that algorithms can identify specific incidents like child abductions, and, presumably, other types of crimes too. The contract was first reported by Vice.
It's not clear how live time intelligence works and what algorithms are used to analyze the data exactly. But it looks like Banjo wants to incorporate as many different types of data as possible to watch an event unfolding in real time.
Maybe it believes that a frantic call reporting the kidnapping of a child made to law enforcement can be recorded. That might provide some information about the victim or the suspect speeding off in a car or something. Footage from CCTV could be searched to find the car and the traffic cameras can identify the vehicle's number plate to help police rescue the child.
But Utah Attorney General Sean Reyes (R-UT) could not identify a single time that Banjo's technology had been used in real life. It's not clear if it's because Banjo's software doesn't work or if it hasn't successfully caught a crime.
Banjo is led by CEO Damien Patton, it has been around for nearly a decade and is based in Utah.
That's all the facial-recog gubbins. Here are a few other AI-adjacent announcements from this week.
Facebook uses AI to sniff out fake accounts
The social media giant revealed an internal machine-learning tool it uses to detect fake Facebook accounts this week.
Known as Deep Entity Classification (DEC), the system is trained to inspect around 20,000 features on a Facebook account, including its recent activity, such as to whom it is sending friend requests, if it's using a real photo for its profile picture, what pages or Facebook groups it interacts with and more.
DEC has caught 6.5 billion fake accounts, according to The Verge. Most of them get detected during the creation process.
Most people make false profiles to scam and spam people with fake adverts or to spread misinformation. Facebook said it has managed to reduce these types of accounts by 27 per cent as its tool improves.
It's getting harder and harder to spot them, however, now that miscreants have tools to generate more convincing profiles at their hands. It has become increasingly more important to find these as concerns about how the spread of misinformation can be weaponized ramps up with the upcoming US general elections in November.
Waymo introduces its new self-driving car system
Waymo introduced what it calls the "World's Most Experienced Driver" this week.
The outfit's software has racked up tens of millions of miles with human drivers at the helm, and billions of more miles via simulations. But despite having more experience than meatbags, it still can't drive the way we do just yet.
Folks over at Waymo have been ramping up testing and more cars have been spotted cruising around San Francisco. They look flashier than previous models since Waymo has added more sensors around its vehicles.
"No one type of sensor on its own can provide that level of detail in all operating conditions; therefore, we've spent over a decade developing a single integrated system comprised of complementary sensors to give our Driver this comprehensive view of the world so that it can safely navigate complex environments," it said.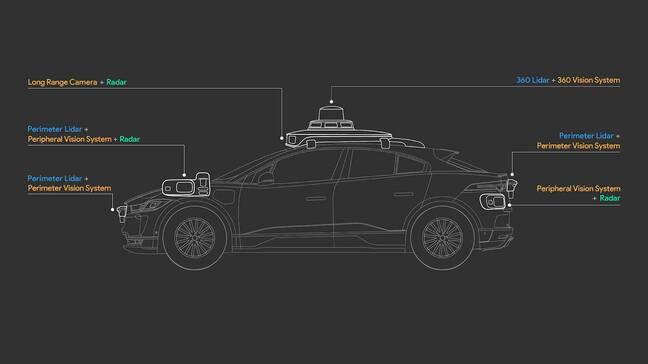 Image Credit: Waymo
Now, its electric Jaguar I-Paces models come with more than just series of spinning Light Detection and Ranging (lidar) cameras on top. There's also a lidar camera sitting right in front of the car to help it detect objects in close proximity.
Another lidar and radar system rests on the hood for a wide-field view of nearby cars, cyclists, pedestrians and the like. There are two more at the back of the car. The lidar and radar systems at the rear of the car cover blind spots for parking or driving on hills.
Waymo defector being sued by Google declares bankruptcy
Anthony Levandowski, the self-driving engineer accused of stealing trade secrets from Google, has declared bankruptcy after he was ordered to pay $179m for breaching his contract with the search giant.
A San Francisco county court approved the decision made by an arbitration panel that Levandowski should pay Google $179m in damages. He currently faces 33 charges of theft and attempted theft of trade secrets for downloading 14,000 files outlining details about the lidar system embedded in Waymo's cars. Waymo started out as a secret self-driving car project at Google and has since spun out into a separate company owned by Alphabet.
Levandowski left Google to start his own self-driving startup, Ottomotto, which was quickly snapped up by Uber. Google sued Levandowski and Uber, alleging that Uber was able to steal Waymo's secrets by acquiring Ottomotto. Uber and Google have since settled, with the ride-hailing taxi giant paying $245m worth of stock to Google.
Google argued that Levandowski, therefore, had breached his contract and was ordered to pay damages. Prior to him leaving Google, he was handsomely paid a $120m bonus. Google wants that back and more. It argued that Levandowski had poached employees to join his startup, slowing down its progress on developing autonomous vehicles.
Now, judges at a San Francisco Court have ordered Levandowski to fork over $179m. But he said he probably only had somewhere between $50m to $100m in assets and declared bankruptcy instead.
It's unclear if Levandowski has to pay anything at all, since his contract with Uber states that he would be legally exempt from any losses or damages. "While Uber and Levandowski are parties to an indemnification agreement, whether Uber is ultimately responsible for such indemnification is subject to a dispute between the company and Levandowski," according to Uber's filing the New York Times reported.
Nvidia acquires a storage company
Silicon Valley GPU giant Nvidia has acquired SwiftStack, a San Francisco-based storage company, for an undisclosed sum.
"We are delighted to announce that SwiftStack has signed a definitive agreement to be acquired by Nvidia," SwiftStack's president and chief product officer Joe Arnold announced this week. "For more than a year, our team has worked together with Nvidia to solve the data challenges to enable AI at scale. We expect to close the transaction in the weeks ahead, subject to customary conditions."
The acquisition was first reported by Blocks & Files, The Reg's sister site led by our storage vulture Chris Mellor. Nvidia is a big customer of SwiftStack. It uses its software to manage GPUs across its multiple data centers.
"Nvidia's main reason for buying Swiftstack is a file connector that enables cloud-native applications to access data either on-premises or in AWS via S3 or Swift object APIs, and can ensure the compute resource is constantly fed with data," Mellor commented. ®