This article is more than 1 year old
UK.gov sits down with mobile big four to formalise plans for rural shared 4G network
£1bn boon to improve coverage across the home nations
UK ministers are meeting the heads of O2, Three, EE and Vodafone later today to formalise plans for a Shared Rural Network (SRN), which would improve coverage in rural black spots.
The SRN will allocate £1bn to build new masts in areas that lack decent coverage, as well as upgrade existing ones. Customers from each of the aforementioned networks will be able to automatically connect to these masts without having to perform any manual configuration.
Both industry and government will share the cost, with Westminster throwing in £500m and the networks contributing £532m.
Plans for the SRN have been in the pipeline since October of last year, when it was unveiled by then digital secretary Nicky Morgan.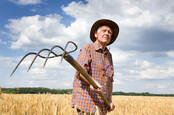 Mobile operators say they'll go halfsies with UK.gov on £1bn network to bring 4G to rural folk
READ MORE
The infrastructure will be jointly owned by the four carriers under the banner of Digital Mobile Spectrum Limited.
Digital Mobile Spectrum Limited was previously known as at800. The firm was founded in 2012 at the behest of the coalition government to mitigate the interference of 4G mobile services that operate at 800MHz against Freeview TV broadcasts.
The Department for Digital, Culture, Media and Sport (DCMS) said the SRN will provide coverage to over 280,000 premises and over 16,000 kilometres of road that were previously bereft of signal. It also estimates that coverage will improve in around 1.2 million premises, as well as 45,000 kilometres in roads.
Ultimately, the SRN will allow for 95 per cent of the UK's landmass to have 4G coverage by 2025. Most of the benefit will be felt in the home nations of Scotland, Northern Ireland and Wales, which have a lower population density than England.
Scotland, for example, will see 4G coverage from at least one operator rise from 80 per cent today to 91 per cent by 2025. Wales will also see a sizeable improvement, going from 89 per cent to 95 per cent.
In a statement, digital secretary Oliver Dowden said: "For too many people in the countryside a bad phone signal is a daily frustration. So today we're delivering on the prime minister's 100-day promise to get a £1bn landmark deal signed with industry to end poor and patchy mobile rural coverage."
He added: "This is an important milestone to level up the country, improve people's lives and increase prosperity across the length and breadth of our United Kingdom."
The move was also hailed by the heads of the big four, with Vodafone chief Nick Jeffrey saying: "A rural postcode should not be a barrier to receiving a decent mobile signal. Together, we have created a programme that is unmatched anywhere in the world. It will mean an end to mobile 'not spots' for people in the more remote areas whether they are at home, at work or on the move." ®