This article is more than 1 year old
OPPO Find X2: Top-tier cam and 5G, so who needs a fold?
BBK brand plays it safe
Hands on OPPO's latest flagship smartphone, the Find X2, comes to the UK in early May.
We got our hands on early hardware, with the promise that it is very nearly what will be released, albeit with the possibility of minor software tweaks. OPPO said it is still working on operator deals for the UK.
The Find X2 comes in two guises, with the Pro version having double the storage (512GB vs 256GB), an improved camera and IP68 water resistance (survives immersion). Both models feature Qualcomm Snapdragon 865 chipsets, with 8-core CPU up to 2.84 GHz and Adreno 650 GPU, 12GB RAM, high-end 6.7" AMOLED displays with 3,168 x 1,440 resolution and 120Hz refresh rate, and 5G in both NSA (non-standalone) and SA (standalone) mode.
China-based OPPO is a subsidiary of BBK Electronics, whose other brands include Realme, Vivo and OnePlus. OPPO is the fifth largest smartphone brand, according to IDC, with a market share of 8.7 per cent by units behind Samsung, Huawei, Apple and Xiaomi. Combine the brands, though, and BBK is huge. "BBK Group (OPPO, Vivo, Realme, and OnePlus) is close to becoming the largest smartphone manufacturer group globally, accounting for over 20 per cent of the global smartphone market and three of its brands in the top 10," said Counterpoint research.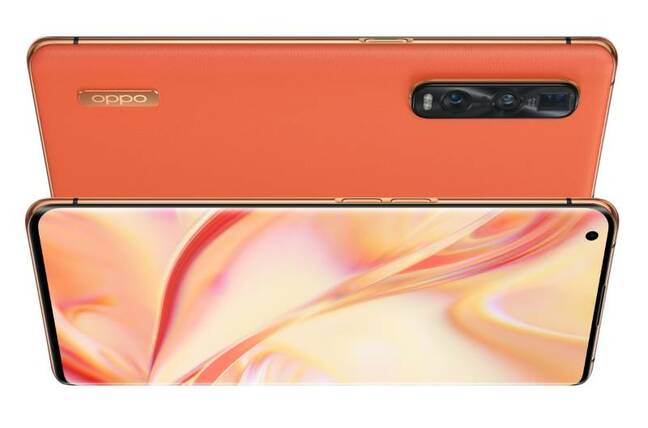 OPPO Find X2 Pro showing rear camera protrusion and small circle for front camera – less bother than a notch
The Find X2 is a high-end mobile with a price to match – similar to Samsung's Galaxy S20 series. The cheapest S20 comes in below the Find X2 at £799 in the UK, but is a 4G model. A 5G S20 is the same price but with only 128GB storage. Another notable competitor is the Xiaomi Mi 10 Pro.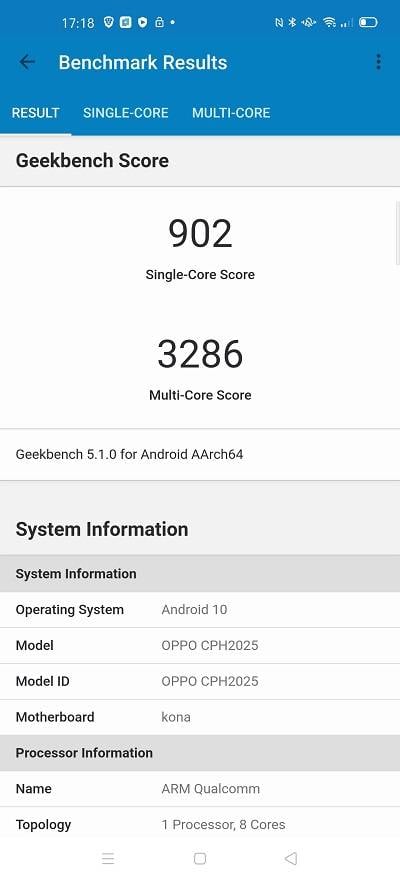 Geekbench score for Find X2 Pro
Why is OPPO not offering a 4G version? OPPO's Michael Tran, head of strategy and product marketing for Western Europe, told us that it is a matter of future-proofing so that users do not get left behind as 5G rolls out. "Consumers don't really know the true benefit of 5G," he said.
The Find X2 claims a 93.1 per cent screen-to-body ratio and it feels even higher, with the curved vertical edges blending into the sides leaving just thin strips of bezel top and bottom. The refresh rate is up to 120Hz and the touch sampling rate 240Hz, which translates to an smooth and responsive screen. Touch response delay is just 4.2ms at the highest setting. HDR (High Dynamic Range) peak brightness is rated 1,200 nits and overall peak brightness 800 nits – which means you can actually read the screen in bright sunlight. OPPO also claims 10-bit colour depth, though a note says "10-bit performance from 8-bit display" so it may include some dithering trickery. Colour accuracy is specified at 0.4 JNCD (just noticeable color difference), which is excellent. Notch is thankfully absent, just a circle approximately 4mm in diameter towards the top left for the front camera.
It is a great screen, but the pretty curved edges have a disadvantage, which is that the first and last few millimetres of the display are curving away from you, distorting the image. If you have a busy screen with text at the edge, for example, this does affect the aesthetics and (slightly) the readability. Whether this bothers you is a matter of taste, but it might.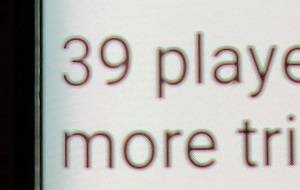 This photo shows how text is impacted by the curved edge on a busy screen. Note that the shading on the left is not on the display itself.
On the plus side, there is an adaptive brightness algorithm that works. OPPO calls it the "AI Adaptive Eye Protection System" and it changes colour temperature as well as brightness according to the ambient light. In practice this means not only readability in sunlight, but also a pleasantly dim screen if you reach for your mobile in the small hours.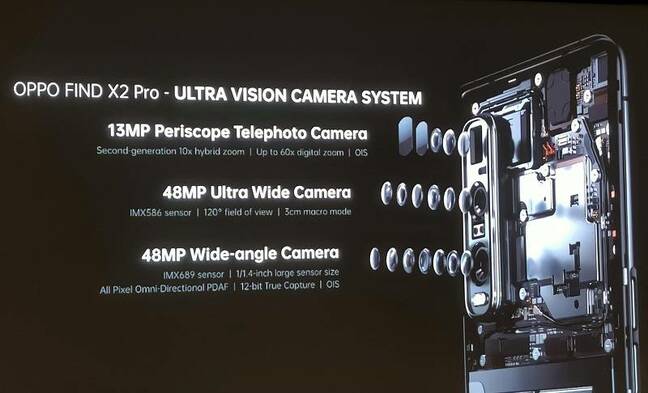 The Find X2 Pro camera system
Next up is the camera system. A slight protrusion on the rear houses three cameras, as follows:
|   | Find X2 | Find X2 Pro |
| --- | --- | --- |
| Main | 48MP, 1/2.0" sensor, f/1.7, 6P lens, OIS | 48MP, 1/1.4" sensor, f/1.7,7P lens, OIS |
| Wide Angle | 12MP, 1/2.4" sensor, f/2.2,6P lens, 120° field of view | 42MP, 1/2.0" sensor, f/2.2, 6P lens, 120° field of view |
| Telephoto | 13MP,f/2.4,5P lens,5x hybrid zoom, 20x digital zoom | 13MP, f/3.0,5P lens, OIS, periscope, 10x hybrid zoom, 60x digital zoom |
| Front | 32MP, f/2.4, 5P lens | 13MP, f/2.4, 5P lens |
This is where the Pro version comes into its own, with larger sensors and a periscope telephoto lens, meaning it uses mirrors to achieve optical zoom without a ridiculously large rear protrusion. OPPO also claims smarter auto-focus thanks to "omnidirectional PDAF (Phase Detection Auto Focus)".
We tried out the Find X2 Pro camera by the simple expedient of taking some snaps, while taking similar pictures with the 2019 OPPO Reno 10x Zoom, the company's decent camera-oriented mobile from a year ago. These represent typical user snaps, not professional shots, so are not to be taken too seriously. The Reno 10x Zoom also has a 48MP main camera and 13 MP periscope zoom, but we found a substantial improvement in the (admittedly more expensive) Find X2 Pro using the main camera, with more natural colours, more detail, and reduced digital artefacts.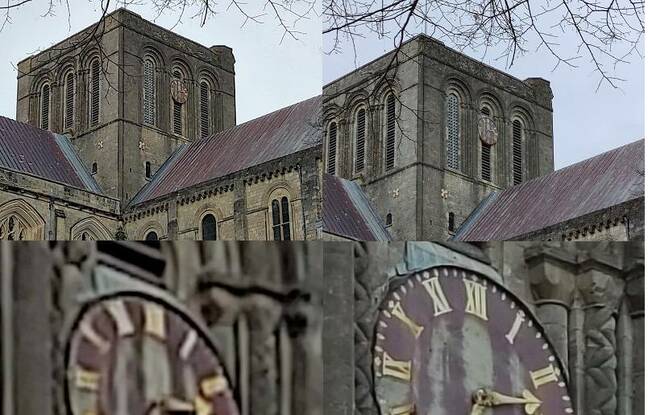 Winchester Cathedral: OPPO Reno 10x Zoom on the left, Find X2 Pro on the right, with detail at full resolution below
A zoom shot taken from a bridge was a less certain win for the Find X2 Pro, with better colours but weaker detail than the older device. Macro mode is distinctly better on the Find X2 Pro, though, with the phone able to maintain focus from around 3cm away.
There is a night mode, though oddly it does not seem to do significantly better than standard photo mode for low-light shots. Video recording is up to 4K resolution at 60fps and benefits from three microphones which supposedly focus the audio on a subject when you zoom in. There are more sample pictures over on the DxOMark camera benchmarking site, which rates the Find X2 Pro equal top with the Xiaomi Mi 10 Pro among all mobiles it has tested.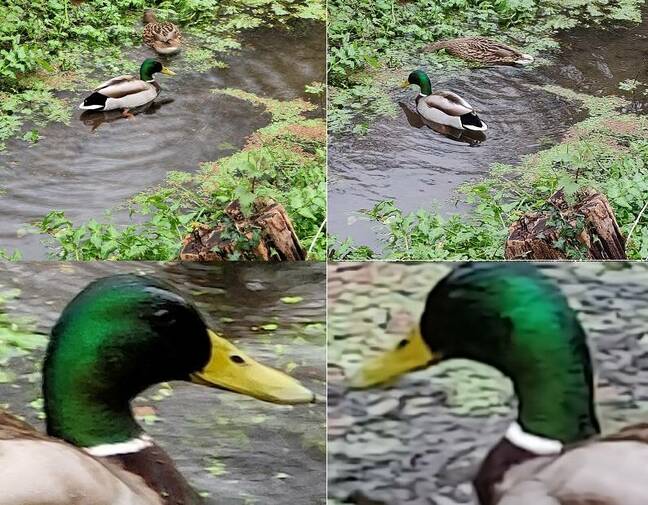 Reno 10x Zoom on the left, Find X2 Pro on the right, zoom photo with detail below
The rear protrusion means the phone wobbles when set down, but there is said to be a case in the box of the final version which will likely eliminate that problem.
Fast charging is a notable feature, with full charge of the dual-cell 4,260mAh battery on the Pro in around 38 minutes, provided you use the supplied fast charger. This draws 65W and raises potential safety concerns; the device gets warm but OPPO claims "five level safety protection" to monitor battery status and protect against damaged batteries. Internal graphite covers also assist cooling, which helps to reduce the impact on battery longevity.
Fast charging is great, but also needed because battery life is not great. Marketing VP Brian Shen claims 7.9 hours screen time at 120Hz and we found a session out and about taking photos left us with not much charge. It should be fine for a typical working day and this is the kind of thing that you can tune, perhaps by disabling 120Hz refresh when not needed, for example.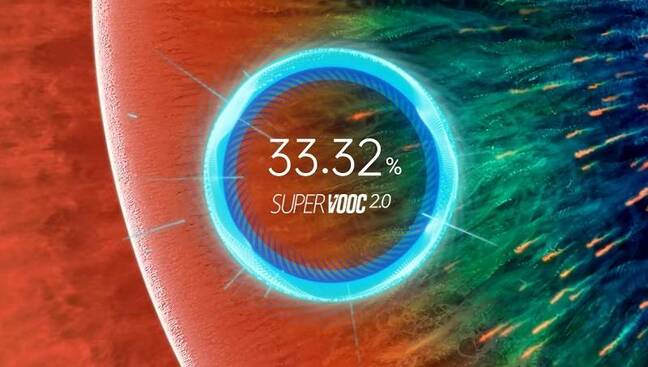 Fast charging gets you a full charge in around 38 minutes
Software on Find X2 is Android 10 with OPPO's Color OS 7.1. Color OS is not too annoying; it is lightweight and supports a custom dark mode. A multi-use feature lets you define three users: main, sub-user and visitor. A feature called Personal Information Protection lets you intercept requests to access data such as contacts or call history and replace it with blank data on a per-application basis. Another privacy feature is App Lock, which encrypts the data of selected applications so they require a further password or biometric identification before use – somewhat annoying, but with face unlock not too inconvenient.
OPPO describes its products as mainly consumer, but is making a start on the business market, and this is the first device to support Android Enterprise, Google's validation programme, which should ensure correct MDM (Mobile Device Management) support. "It is the first step for us to enter this space," said Tran.
There is an optical fingerprint reader, face unlock, and a "raise to wake" feature, which means that lifting the mobile also wakes it from sleep. In general this means that if you pick up the phone and look at the screen, it is ready for use without further unlock, which is convenient, but does also mean that it wakes even if you do not need it to; perhaps you picked up the phone just to put it in a pocket. You can disable the feature if you prefer. The on-screen fingerprint sensor lacks the convenience of a rear sensor, but when you press it, the face recognition is also used, increasing the chance of a successful unlock.
The earbuds supplied with our pre-production Find X2 Pro are ordinary but the sound from the built-in stereo speakers is surprisingly tolerable, good for speakerphone use or if you absolutely must play that video or song to someone. The audio system supports Dolby Atmos. There is no headphone jack, and it would likely be hard to achieve IP68 with it included.
OPPO's Find X2 series are high-performance devices, ticking the boxes for fast CPU, strong graphics and display, 5G, and cameras that are among the best available on a smartphone.
We also loved the adaptive brightness. The fact that you have to pay for 5G despite its patchy rollout may be an issue for some and lack of a microSD slot is annoying, though mitigated by generous on-board storage; arguably the need for huge amounts of local storage is lessened as connectivity improves. The curved edges are a little annoying but it is a matter of preference.
OPPO has avoided bleeding-edge features like foldable or dual screens, or even wireless charging, though the wired charging is the fastest around. A good device, though at this price point there is plenty of choice and it only makes sense if 5G and a top camera are high priorities. ®