This article is more than 1 year old
UK.gov is not sharing Brits' medical data among different agencies... but it's having a jolly good think about it
Ministry of Fun under pressure to admit it's going to happen
Who'd be a head of data policy for the British government? You spend all your time talking about data transparency, but it is so hard to be transparent.
Just ask Stephen Lorimer, head of public sector data at the Department for Digital, Culture, Media and Sport (DCMS). At an event run by think tank The Institute for Government last month, he was asked about proposals that could allow the sharing of medical and social care data across government bodies under the Digital Economy Act 2017.
His answer was very clear. "There are no moves right now to make medical records part of the Digital Economy Act within government," he said. He was clear, that is, until a challenge from the floor pointed out that such a move was under consideration.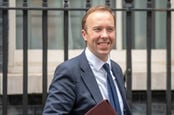 What has an 'open-door policy' with industry and puts the X into NHS? Brits, let app-happy Matt Hancock tell you
READ MORE
The Public Service Delivery Review Board is the body in charge of advising government organisations on sharing personal information for objectives set out in regulations and the Digital Economy Act 2017.
Minutes (PDF) for its meeting in July 2019 show that, while discussing ideas for its first report for ministers, it proposed "a work programme… which would include recommendations for proactively supporting expansion and uptake of the powers… [which]… could include ideas for progressing the necessary work with NHSX [the NHS digital agency] and other stakeholders to bring health and adult social care bodies within the scope of the PSD and other Digital Economy Act powers".
Following the challenge, Lorimer took the opportunity to qualify his answer. "Those minutes are true: that they've been consulting on it and that's something which has been was done during last year," he said. He said the move was in response to a Public Accounts Committee report which voiced concerns that the law was preventing sharing of data across government.
But Lorimer went on to say that although it was being considered, "acting on that is still not something that is being done at the moment".
If all this seems confusing and long-winded, that's because it is. But it is important. The Public Service Delivery Review Board has suggested that it will ask government to extend the Digital Economy Act to include the sharing of medical data across government, something primary legislation currently prevents.
One the one hand, it might make sense for housing services to understand the medical needs of someone they are trying to support. On the other, patients might be very concerned about sharing medical details with a doctor if they think their records could be passed to the Department for Work and Pensions (DWP). Such fear could hinder proper medical treatment.
Sam Smith, coordinator at independent lobby group medConfidential, said Lorimer's response undermines all statements from DCMS about its plans for data. "The first instinct was to say something utterly untrue, and when the public document published by his Department was referenced, the response was the exact opposite."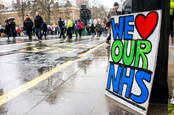 Revealed: NHS England bosses meet with tech and pharmaceutical giants to discuss price list of millions of Brits' medical data
READ MORE
He said that patients have the legal right to know how data about them is used. "If people believe that what they tell their GP could get passed to DWP or the Home Office, public health will be harmed and costs to the NHS will go up due to delayed care."
DCMS is preparing a Framework for Data Processing by government departments as required under the Data Protection Act 2018. However, it is only consulting with government departments and the Information Commissioner's Office, and not with the public.
In 2016, the government's hated Care.data project was canned over concerns about sharing NHS patients' sensitive medical information with commercial entities without explicit consent.
Last year a broad group of lobby organisations – including the Institute for Government, the Royal Statistical Society, the Open Data Institute and the Policy Institute at King's College London – wrote to DCMS with concerns about its approach to the National Data Strategy. "Without major and sustained effort, the UK risks falling behind other countries over the next decade and never being able to catch up," it said.
The Register has contacted the DCMS for a response, but we fear the government wants to be allowed to share our data much more than it wants to share information about data sharing with us. ®