This article is more than 1 year old
Amazon launches itself into retail IT with 'all the necessary technologies'. Not saying which, but you know...
We have to Just Walk Out of that shop, right? Oh... with products
You know how it is: you start by selling books online, then take over the world of ecommerce, and almost by accident end up dominating the multibillion-dollar cloud computing market. After that, you just can't help yourself.
Well, you would if you were Amazon. Bezos' behemoth has decided to launch into another market: this time retail technology. Three years after Amazon opened its first physical Go store in Seattle, it is set to sell to other retailers the technology that allows consumers to walk out and pay without using checkouts.
Initially only welcoming Amazon employees, the Go store was packed with cameras and relied on a back-end mix of object recognition and deep learning to tell who had picked up what, before charging an Amazon account as the user leaves the store.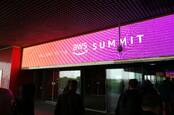 Holy high street, Sainsbury's! Have you forgotten Bezos' bunch are the competition?
READ MORE
For retailers who buy Amazon's Just Walk Out technology, consumers will be charged to a credit card which they swipe as they enter the shop. As for a more detailed description of the technology, Amazon isn't saying, but seemingly isn't relying on customers to scan QR codes or bar codes as, for example, the Zebra-acquired Motorola Solutions' product, Personal Shopper, does.
In a thread-bare website Q&A, it asks itself: "What does Amazon provide with Just Walk Out technology?
"We provide all the necessary technologies to enable checkout-free shopping in a retailer's store and offer retailers 24/7 support via phone and email," it answers helpfully.
Meanwhile, Amazon promises to only collect the data needed to provide shoppers with an accurate receipt.
"Shoppers can think of this as similar to typical security camera footage," it says.
So far, Amazon's expansion of its Go stores has been relatively modest. There are 26 stores across the US, and none outside the country. But according to reports from Bloomberg, there might be 3,000 Amazon Go stores by 2021.
Shoppers can think of this as similar to typical security camera footage...
The reason for the expansion? Money, of course. RBC Capital Markets analysts estimate that the speed of service in busy stores could help an Amazon Go shop, or any store using the technology, we guess, to bring in about 50 per cent more revenue on average than an outlet relying on checkouts.
Although the Go brand was limited to convenience stores at first, in February Amazon opened its first grocery store using the technology in San Francisco. Taken together, the expansion of Go stores and the decision to sell the technology to other retailers could mean Amazon is confident it has ironed out early glitches. For retail technology buyers, there are any number of outstanding questions.
Although Amazon says it will provide all the technology they need to give customers the "Just Walk Out" experience, it does not say who will do the implementation on the ground. Amazon failed to answer The Register's questions about going to market itself or with third parties.
Similarly, it was not keen on talking about and whether retailers could integrate the technology with their own back end systems – and who might be able to do the work.
This all raises the question of technology lock-in.
If Amazon is the only provider of what seems to be a "black box" technology and retailers rely on it for taking customer payment, what kind of negotiating position are they in should Amazon, heaven forbid, turn the commercial screws? Unlike their shoppers, they can't just walk out. ®