Hello, support? What do I click if I want some cash?
Look! We've cleared the Windows 7 warning and replaced it with... oh dear...
Bork!Bork!Bork! UK banking giant Barclays has become the McDonald's of bork as its ATMs continued their parade of Windows-based shame.
Register reader "Head of IT, Phil" spotted these examples of Barclays borkage in the Scottish city of Aberdeen, demonstrating that the bank is apparently as incapable of keeping some of its ATMs upright in Scotland as it is in England.
"I'm not the Barclays Head of of IT," Phil added as he shared imagery of Windows 7 (or rather whatever the banking group had done to Windows 7) behaving very badly in the north of the UK.
A wise bit of prudence, Phil.
While Barclays has steadfastly refused to comment on what is happening to its cash machines, we're sure that somewhere in the bowels of the bank is an IT professional with head in hands, saying: "I told you this was going to happen..."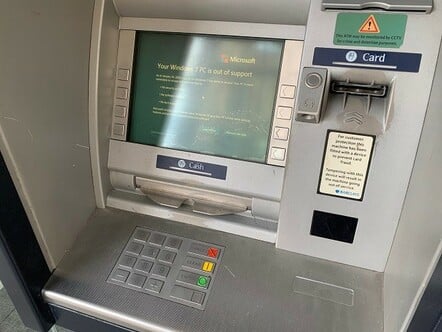 Please release me, let me go...
Windows 7 bleating about being out of support is one thing. Today's new twist is a view of the desktop which we're pretty sure is the operating system running with a classic theme (although no doubt that somebody will be along before long to correct us).
The Barclays desktop wallpaper is a handy touch, just in case – you know – a customer was unsure as to who was responsible for the ATM that was hopelessly borked before them.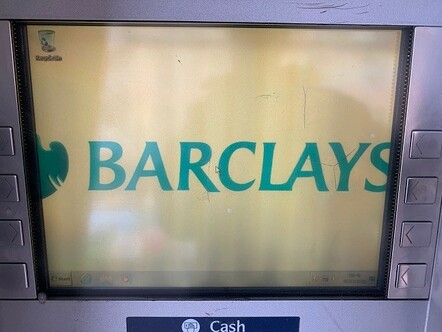 Great news team! We fixed the Windows warning!
Sadly, however, without keyboard and mouse it is difficult to do too much with the screen except gaze with nostalgia at the delightfully retro Internet Explorer and Media Player icons and ponder where one might pick up the readies needed for a night out involving beer and the traditional deep-fried Mars Bar. ®