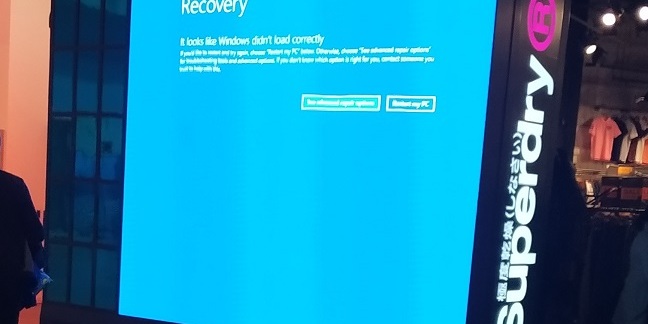 Bork!Bork!Bork! We take a break from crashed cashpoints in today's instalment of The Register's occasional series of unhappy computers to bring you the latest from fashion sensation Superdry.
Spotted by a Register reader in the UK's Bluewater shopping centre, the retailer's digital signage has taken a break from its relentless plugging of this season's garments (replete with occasionally whiffy Japanese text) to enjoy a good old-fashioned bork.
In this instance, it is a relatively recent version of Windows that has taken exception to its task. Indeed, the new caring and sharing Microsoft is more about hairshirts and sandals these days than the sleek apparel flogged by the store and, correctly, reckons "Recovery" is the only way forward.
Just out of sight (cropped in order to protect the identity of passersby) is a branch of Marks & Spencer, purveyor of very comfortable undercrackers (other retailers are available) that do not contain the Japanese logograms so beloved of Superdry.
Indeed, we were a little surprised the company had left Windows in English mode. It's almost as if the whole Japanese shtick was... marketing? Surely not.
Naturally, we contacted the retailer to find out what had befallen the screen. It has yet to respond.
The company (with origins in 1985 as the easily typo-able "Cult Clothing" before the first Superdry store opened in 2004) has struggled of late (PDF). In 2019 the group reported a statutory loss before tax of £85.4m and underlying profit plunged 56.8 per cent to £41.9m. Chairman Peter Williams said at the time: "The last year has been a year of considerable challenge and change for Superdry."
If only it were as easy to hit "Run advanced repair options" for the company. In the meantime, to its six core values of "passion, creativation, quality, family, individuality and fun" we can add "bork".
Frankly, we can hardly blame Windows for throwing in the towel. "Creativation" indeed. ®
Sponsored: Webcast: Ransomware has gone nuclear