This article is more than 1 year old
Uncle Sam stonewalls probe into its secretive airport facial-recognition technology. Now the ACLU is suing
All your face are belong to US
The American Civil Liberties Union (ACLU) is suing Uncle Sam's Homeland Security, and multiple government agencies, claiming the g-men stonewalled on what they are doing with people's faces scanned at US airports. The civil-rights warriors hope to extract information from the organizations via the courts.
In December, Homeland Security dropped plans to scan the faces of everyone traveling through US airports, and instead focused on identifying anyone not a US citizen or permanent resident. Officials haven't explained publicly what they're doing, or have done, with data automatically collected by the facial-recognition systems, despite legal requests to do so.
The lawsuit, filed in a federal district court in New York City on Thursday, reveals the ACLU submitted several freedom-of-information requests to Homeland Security, Customs and Border Protection (CBP), Immigration and Customs Enforcement (ICE), and Transportation Security Administration (TSA) in January.
Under America's freedom-of-info laws, those agencies had 20 days to respond to a request, and an additional 10-day extension under certain circumstances. Although Homeland Security, CPB, ICE, and TSA acknowledged receiving the ACLU's requests, none of them released any records nor explained their lack of action within the 30-day time window.
"That's why today we and the New York Civil Liberties Union filed a lawsuit asking a federal court to order the Department of Homeland Security, CBP, TSA, and ICE to turn over records about the implementation of face surveillance at airports, and their plans to subject travelers to this technology in the future," the union explained in a statement today.
"Our lawsuit seeks to make public the government's contracts with airlines, airports, and other entities pertaining to the use of face recognition at the airport and the border; policies and procedures concerning the acquisition, processing, and retention of our biometric information; and analyses of the effectiveness of facial recognition technology."
There is much confusion as to how each agency handles facial-recognition technology. The Traveler Verification Service program run by the border cops snaps images of passengers, and uses facial recognition algorithms to match them against images of persons of interest. The program started in 2017, and processed more than 20 million images of folks going through US airports by June 2019. CBP partnered with several domestic airlines, such as JetBlue, Delta, and United, across the nation to use its face-matching technology. Although the agency has said citizens are allowed to opt out, that has reportedly not been an easy process.
"Generally, there is no opportunity for an individual to decline to provide information that is required in order to travel to or from the United States," according to an assessment [PDF] carried out by CBP.
"Pursuant to CBP's border search and immigration authority, an individual seeking entry into the United States must satisfy the CBPO that he or she is a US citizen, lawful permanent resident, or is otherwise eligible for admission to the United States, and that he or she is not attempting to import or export any merchandise in violation of US laws."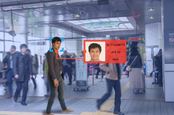 Your ugly mug may be scanned yet again – but at least you'll be able to board faster at Gatwick
READ MORE
Meanwhile, in a report [PDF] outlining TSA's biometric roadmap, it plans to collaborate with CBP to check international travelers, including those going through TSA Precheck, with a pilot study to test live facial recognition at McCarran International Airport in Las Vegas last year.
"If this technology is normalized at the airport, it's only a matter of time before the government cites its use at airports as a basis for deploying it elsewhere," the ACLU argued.
Most facial-recognition algorithms today are not entirely accurate when identifying women and people of color. The ACLU believes that uncovering how the technology is used by the government will reveal the extent of racial and gender biases in the models.
"That we even need to go to court to pry out this information further demonstrates why lawmakers urgently need to halt law- and immigration-enforcement use of this technology. There can be no meaningful oversight or accountability with such excessive, undemocratic secrecy," it concluded.
ICE told The Register that, while it couldn't comment of pending litigation, it was willing to express some ground rules.
"ICE does not routinely uses facial recognition technology for civil immigration enforcement," it said. "ICE's use of facial recognition technology is primarily used by Homeland Security Investigations (HSI) special agents investigating child exploitation, human trafficking and other cases that HSI special agents investigate."
The TSA took a more standard line. "What I can tell you is that TSA does not comment on pending litigation," a spokesperson said. The other agencies also declined to comment. ®