Bork!Bork!Bork! We're going topical in today's instalment of computers behaving badly because here's an Italian display that developed the blues just before the country sent everyone home.
These days, BSOD might as well mean "Bastard Sneeze Of Doom" instead of the Blue Screen Of Death that Windows users came to know and love (before Microsoft switched it for a more sad-faced affair in 10).
However, a loyal Register reader snapped a screen in the act above a doorway to platforms 16 to 19 of Italy's Bologna station. The display, impressively free of pesky bezels, usually blasts advertisements out over the main hall of the train station. But this time there was only bork.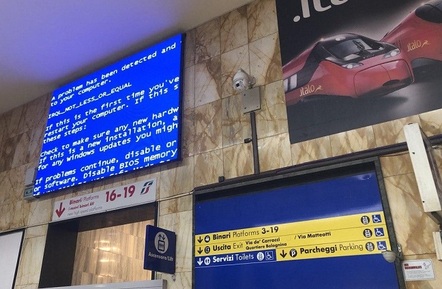 Click to enlarge
"That BSOD," our reader mused, "makes me think that the most recent system could be Windows 7, but knowing how those things don't get updated, it may as well be XP."
It is certainly hard to tell; a mere quarter or so of Microsoft's finest is visible, although our old friend IRQL_NOT_LESS_OR_EQUAL is as clear and as stupendously unhelpful as ever.
We are far too classy a publication to suggest that perhaps the computer driving the display has become infected with a virus and hacked up a big ol' screen of blue. That would be in terribly poor taste.
However, we can but hope that, once rectified, any adverts on the screen have been replaced with the Italian equivalent of "Wash your hands!" and "For God's sake, stop touching your face!"
Assuming, of course, someone wiped down that power switch before turning it off and turning it on again. ®