This article is more than 1 year old
Microsoft, Google, Slack, Zoom et al struggling to deal with a spike in remote tools thanks to coronavirus
Tech companies are loving the attention while keeping schtum on outages
With more and more companies across the world telling employees to work from home in an effort to limit, or slow, the spread of COVID-19 – which was last night declared a pandemic by the World Health Organization – outages on common remote-working tools have started to increase.
Shares in video-conferencing specialist Zoom have been on a rollercoaster ride over the past month, starting at $87.66 on February 3 and jumping to $113 at the end of the month, before dipping back down to $105, then rocketing again to $125 one week later.
As of today, it is at $107.32 a share - 22 per cent up on its value six weeks ago: a stark contrast to the broader stock market, which is down 10 per cent. Zoom sees a massive opportunity to bring in new users and to that end has lifted a 40-minute limit on the free version of its product for users in China and Italy, as well as some in the US. Its smartphone app has also become the most downloaded business app on Apple's iOS store.
The company has refused to say exactly what kind of usage increase it has seen but its CFO has said this week that its current biggest focus was on dealing with demand: it is massively increasing data center capacity to deal with new customers and the bandwidth issues they will bring. Despite that however, reports of downtime are increasing, with clear spikes during working hours.
Pretty much every remote working company is in the same position and taking the same approach; pushing their products and lifting limits on free use periods in an effort to get people to adopt their platform.
Late last week, messaging service Slack wrote a blog post outlining what it was doing to keep its service up and running, while also promoting its 99.998 per cent "aggregated availability over the last six months." That figure is currently nowhere near 99.998 per cent.
Disaster testing
Slack knew outages were coming. "While no systems can perfectly anticipate every contingency, we watch our systems scale up and down in real time every single day," the post noted.
"Because of this, and because we conduct these additional disaster testing scenarios several times per year, we're confident that the same architecture will scale up to handle any additional demands placed on the system due to heavier general use."
It isn't supplying any information about its systems but third parties are reporting a growing number of issues. Slack has it easy, given that the vast majority of its traffic is in the form of text, rather than data-heavy and latency-critical video. It is no coincidence that in the last few hours the company's Twitter feed for service status reported that: "Some customers are being disconnected from calls in Slack. We're on the case and will let you know once we have more news to share."
What about the big boys?
Microsoft is a natural go-to for companies that have occasional work-at-home policies but which have had to embrace the practice wholeheartedly in recent days.
Redmond is all over the corona-spike, just hours ago mailing out information about its Crisis Communications app, aimed at helping businesses "collaborate ... in the event of a crisis" – with functions including pushing out shared updates to employees; reporting on their location; making requests to colleagues; and providing access to info or "emergency contacts via an RSS feed".
Earlier this week, it also provided guidance on how to deal with the increased demand by optimizing your network, and it has also produced another post with "tips" on how to shift your workforce to remote working.
Unsurprisingly, a top tip is to use Microsoft's Teams software. The Seattle-based company has reported a jump in usage - by only giving figures on its internal numbers. "Chat was up 50 per cent week over week and meetings were up 37 per cent. And we're seeing usage upticks among customers, too…" the VP for Microsoft 365, Jared Spataro, reported while failing to give any details on broader users.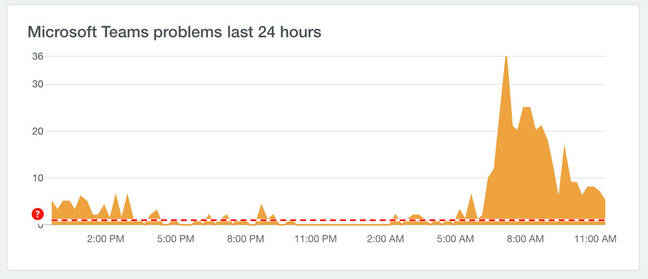 Microsoft is pushing Teams: users are pushing its capacity
It has come at last
The truth of it is that big tech has viewed remote working as a potential goldmine for years and has largely perfected the technology, but adoption has been held back by the fact that companies are much more comfortable with people coming into the office. It's a massive cultural default that the coronavirus has the potential to shift.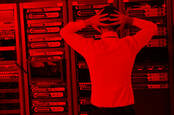 Blow me down with a feather, well, storage server software update gone awry: Nest vid streams go dark for 16 hours
READ MORE
As a result, tech's competitive spirit has kicked in. So at the same time that companies are offering the best ever deals for remote working, ie free, and are happy to talk all about their products, information on usage and outages has effectively dried up.
There's no hiding from the spikes visible on services like Down Detector, however.
The problems with third-party monitoring services, of course, is that they are reliant on people reporting outages to them. Most large companies, and every single remote working company, have extensive stats on how their services are doing in real-time, but no one is keen to share them.
We may have to wait a few months, when - with luck - everything calms down and companies start giving presentations at tech events over what they learnt from dealing with a spike in usage.
What about Google? It's doing the same thing as everyone else - providing free versions of its remote tools and lifting limits in an effort to pull companies into its ecosystem and then, hopefully, retain then once the current emergency is over.
Top tip: use our software
This morning the Chocolate Factory published a blog post with tips for companies looking to do more remote working. But information on outages or downtime? Info on new sign-ups and usage patterns? The status dashboard just has a series of green ticks and not much else.
Google seems to be doing the best so far. But for a company that exists almost entirely in the cloud that shouldn't be a surprise. Nonetheless, there are more outages reported in the past few days than the past few months.
It's also possible that whoever was likely to use Google services like Hangouts is already using it. So, while Zoom has jumped up to the top of the charts for smartphone apps and Microsoft's Teams has come from nowhere to sit at number 4 (in the Apple app store covering the US, to be clear), Hangouts and Slack have stayed in pretty much the same place they have been for months - around 10/11/12th.
Anecdotally, despite what would appear to be a massive increase in remote working this past week, problems have increased but not overwhelmed these services. For the most part, they are working well and remote-working companies are almost certainly taking a big financial hit as they ramp up capacity in order to get potentially millions of new customers using their - free for now - products.
Whether these potential customers stick around after the current COVID-19 crisis remains to be seen. ®