This article is more than 1 year old
How's this for a JEDI mind trick? AWS waves hand, has Uncle Sam 'reconsider' $10bn contract award to Microsoft
Bezos' juggernaut still not happy
Updated The US government has filed a motion [PDF] to the Court of Federal Claims asking for 120 days to "reconsider certain aspects" of the Pentagon's decision to hand Microsoft the JEDI super-cloud contract – yet Amazon Web Services will oppose the motion.
Microsoft was awarded the Joint Enterprise Defense Infrastructure (JEDI) winner-takes-all deal, worth up to $10bn over 10 years, late last year: as such, the Azure giant will provide cloud computing services to the US Department of Defense (DoD). AWS challenged the decision in court, and on 13 February was granted an injunction by the Court of Federal Claims, requiring that work on the contract pauses while the objection is considered.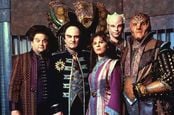 Judge Vulcan-nerve pinches JEDI deal after Amazon forks out $42m to pause Microsoft's military machinations
READ MORE
That ruling by the court, publicly available with redactions, focused on the argument that part of Microsoft's proposal, relating to the type of storage offered in "Price Scenario 6", was not technically compliant with the DoD's stated requirements, and should have therefore been eliminated from the competition. The court ruled that AWS was "likely to demonstrate" that the DoD "improperly evaluated" Microsoft's proposal.
The US government and "intervenor-defendant" Microsoft have now requested that the DoD be given 120 days to reconsider its evaluation. In its request, the DoD said it would like to receive revised offers for Price Scenario 6, allowing both Microsoft and AWS to adjust their proposals – to a limited extent, however.
In addition, the DoD wants to "reconsider its evaluation of the offerors' online marketplace offerings" and to "reconsider its award decision in response to the other technical challenges presented by AWS".
The request also notes that "counsel for AWS stated that AWS opposes this motion and will file a response." We will no doubt soon hear more about the basis of its objections. ®
Updated to add
An Amazon Web Services spokesperson told us: "We are pleased that the [Department of Defense] has acknowledged 'substantial and legitimate' issues that affected the JEDI award decision, and that corrective action is necessary.
"We look forward to complete, fair, and effective corrective action that fully insulates the re-evaluation from political influence and corrects the many issues affecting the initial flawed award."