This article is more than 1 year old
Oh, we may have found the COVID-19 silver lining: Coronavirus pandemic halts Xerox hostile takeover of HP
And nothing to do with stock-market crash, nope, no way
Citing concerns for the safety of its employees amid the COVID-19 coronavirus pandemic, Xerox announced on Friday it is putting its hostile takeover of HP Inc on ice for now.
"In light of the escalating COVID-19 pandemic, Xerox needs to prioritize the health and safety of its employees, customers, partners and affiliates over and above all other considerations, including its proposal to acquire HP," CEO and vice chairman John Visentin said of the decision, made just before the US stock markets opened for business.
"As we closely monitor reports from government and healthcare leaders across the globe and work with colleagues in the business community to minimize the spread and impact of the virus, we believe it is prudent to postpone releases of additional presentations, interviews with media and meetings with HP shareholders so we can focus our time and resources on protecting Xerox's various stakeholders from the pandemic."
Xerox was entering a critical phase in its hostile takeover attempt, as it tried to convince HP shareholders to approve of the acquisition following multiple rejections from HP's own board of directors. Most recently, HP board directors wrote in a hefty severance bonus escalator for top execs to further deter Xerox from riding in on a shareholder vote and taking over.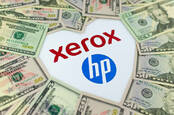 HP Inc to Xerox: If you complete a hostile takeover, and try firing our chief exec, you will pay...
READ MORE
"In these uncertain times our priority is to stay focused on our shareholders, partners, customers and employees," an HP spokesperson told The Register. "We won't comment on Xerox's statement other than to say we remain focused on acting in the best interests of our communities."
The decision also comes as the US stock market as a whole is reeling from pandemic-induced investor panic. Over the past month, HP's stock has fallen from a high of $23.52 a share to just under $17. Xerox's share price stands at $22.47, down six per cent today, and down from $33.50 at the start of the month.
Xerox made a point of stating that the two recent stock market freezes and plummeting share prices were not a factor in its decision to suspend the takeover, and once the pandemic is under control, it plans to pick up right where it left off.
"For the avoidance of doubt, Xerox does not consider the market decline since the date of its offer or the temporary suspension of trading in HP shares that occurred on March 10, 2020 and March 12, 2020 as a result of market-wide circuit breakers procedures to constitute a failure of any condition to its offer to acquire HP," the photocopier maker said.
"Xerox will take the same view on any future temporary trading halts, unless otherwise stated in advance." ®