European electric vehicle sales surged in Q4 2019 but only accounted for wafer-thin slice of total car purchases
'Up 50%' looks good, less so when it's 520,000 out of 15.3 million
Electric and fuel-cell vehicle sales in Europe jumped by over 50 per cent in the last quarter of 2019, but still make up only 4.4 per cent of total sales.
The new energy vehicle (NEV) numbers from Canalys include plug-in hybrids, fully electric vehicles and fuel-cell machines.
For the whole of 2019, some 520,000 NEV cars were sold out of a total of 15.3 million new cars sold across the continent.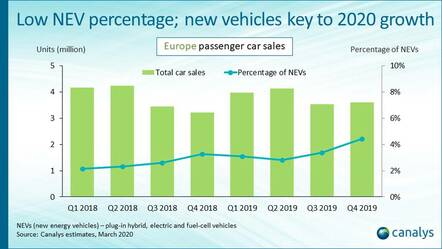 Click to enlarge
Chris Jones, chief automotive analyst at Canalys, said the industry needed a boost but new, cheaper, compact electric vehicles due in the next few months would help to kick-start the market.
Jones said: "More affordable, compact EVs launching in the first half of 2020 from mainstream brands such as Honda, Mini, Opel/Vauxhall, Peugeot and VW. Priced between €30,000 and €40,000 (US$34,000 and US$45,000), with improved ranges of between 200 and 500 miles (320 to 800 kilometres), early customer interest is encouraging."
Canalys said demand for new vehicles across Europe was muted. Although sales for the fourth quarter and the year as a whole were up, the picture was muddied because of the negative impact of regulation changes last year. Emissions and fuel-efficiency changes in the Worldwide Harmonised Light-duty Vehicle Test Procedure (WLTP) caused dramatic drops in car and van sales.
Researchers also warned that the impact of coronavirus would inhibit sales well into 2020. They are also seeing an impact from component shortages hitting not just new energy vehicles, but all car manufacturing around the globe.
Such shortages, coupled with weak demand, may encourage manufacturers to focus on and prioritise component supplies for higher-margin vehicles – which are not typically NEVs. ®