Sennheiser Momentum True Wireless 2 earbuds: They're good – though for close to £300, they really should be
Not headphones. Earbuds
Hands on The past few years have borne witness to a new category of audio tech: the totally wireless earphones. Initially popularised by Apple's AirPods, we've since seen a wide range of alternatives crop up, ranging from bargain basement to unapologetically aspirational. Sennheiser's Momentum True Wireless 2 earbuds fall into the latter category.
Lest we be accused of burying the lede, they're excellent. You'd expect as much, given that they retail at £279. But it's interesting to see how Sennheiser has addressed a lot of the pain points associated with wireless earphones with the Momentum True Wireless 2.
Although the buds themselves aren't as svelte or lightweight as some we've seen, they redeem themselves when it comes to design, with delicate metal finishes on the chassis, and a charging case clad in a subtle granite fabric.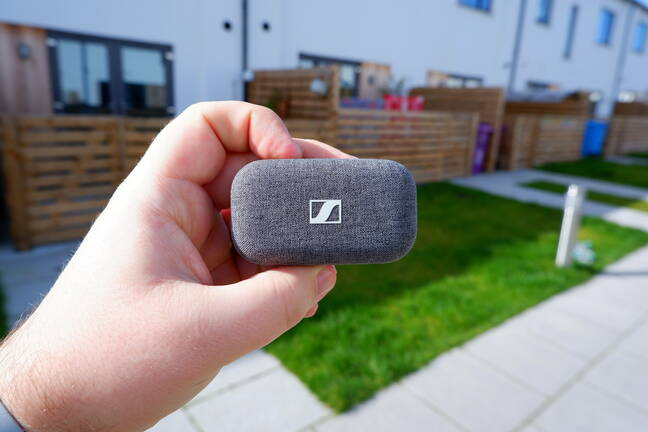 And while the case looks as though it'd be easily blemished by a spilled glass of wine, it feels sufficiently hardy for the day-to-day grind. The hinge snaps in place with a satisfying click, and when you squeeze on the top-lid, there's no discernible flex.
One of the biggest bugbears with early-generation wireless earbuds was that they would often fail to connect with the charging prongs – meaning you could head to work and find one bud charged, and one almost empty. Or you might get a call and find that your phone is still paired to the buds you thought you'd turned off to charge.
In my experience of testing the Momentum True Wireless 2, that isn't a problem. Once you put a bud to rest, it stays put.
Sennheiser says you can get a decent seven hours'playtime between charges. That's a respectable figure, and should last the duration of a transatlantic flight. The battery case gives you an extra 21 hours.
Powering the buds is done via USB-C, although for the price, you'd reasonably expect them to support wireless charging. That felt like a major omission, particularly when you consider cheaper buds pack Qi-compatibility.
The Momentum True Wireless 2 fit snugly into my ear, offering decent sound isolation from outside noises. There's also active noise cancellation (ANC), which does a decent job at filtering out the drone of road traffic, albeit at the expense of battery life.
As is the case with most wireless earbuds, the Momentum True Wireless 2 lets you place calls. Quality was excellent, with the other party able to clearly distinguish my voice even in difficult environments, like when walking down crowded streets or busy arterial roads.
Overall, I was impressed with the rich and detailed sound quality produced by the Momentum True Wireless 2. I was able to home in on individual instruments during more elaborate compositions, like M83's Wait, with ease.
Bass notes weren't muddy or overbearing, but rather delectably rich. Meanwhile, highs and mids didn't feel strained, or produce the same kind of intrusive sibilance you get with cheaper audio kit. The latter was most apparent while listening through City and Colour's 2013 album, The Hurry and the Harm.
The Momentum True Wireless 2 supports Bluetooth 5.1 and aptX, and offered a solidly reliable connection, even when in congested areas. In my experience of testing them, there was no obvious lag, which often creeps in while watching movies on your mobe.
So, here's the thing: I'm usually reluctant to recommend wireless earbuds because they're almost invariably compromised. In order to shrink the form factor, manufacturers have to cut corners. Sound quality and battery life are the usual categories.
But in recent years, that advice has felt more and more outdated as audio makers raise their game. Wireless earbuds sound better, with battery lifespans that make them a viable choice for extended listening.
The Sennheiser Momentum True Wireless 2 epitomises that. In terms of audio quality, it's head and shoulders above anything else on the market – including the AirPods 2. They're refined. Polished.
Polished, but bloody pricey. At nearly £300, it's almost as much as a pair of Sony WH-1000XM3 headphones – which is one of this reviewer's daily drivers. That'll be a bit too much for some to swallow. But if money is no object, we heartily recommend them. ®