After a weekend of WTF-ing at Trump's COVID-19 testing website vow, Google-Verily's site finally comes to life... And it's not what was promised
Just the San Francisco Bay Area goes to 3-week near-lockdown
The coronavirus website built by Google-stablemate Verily and vaunted by President Trump on Friday, is up and running – and is proving to be not nearly as useful as the Command-in-Chief suggested.
Just before the weekend, Trump claimed Google had put 1,700 engineers on a website to help people in America find nearby locations to get tested for coronavirus. This came as news to people at Google we contacted: the web giant knew little or nothing about whatever Trump was banging on about. But this revelation was apparently Fake and Corrupt News.
This is simply not true. The minute the words were out of his mouth we were onto Google PRs about this, because that's what journalists do.

They didn't have a clue what he was talking about. https://t.co/C9L0IqtRwy

— Iain Thomson (@iainthomson) March 15, 2020
On Sunday, Verily, a healthcare-focused subsidiary of Google's parent company Alphabet, said its COVID-19 testing-advice website would be operational on Monday, but only for the San Francisco Bay Area – which includes Silicon Valley where Google is headquartered.
"Californians will be able to take an online COVID-19 screener survey through Project Baseline beginning Monday, March 16," the company said.
"People who meet eligibility and requirements for testing will be directed to mobile testing sites based on capacity, where they will complete a nasal swab test. Once tested, individuals will be informed of their COVID-19 test results within a few days."
By "Californians," Verily means residents in just two Bay Area counties, San Mateo and Santa Clara down in the Valley.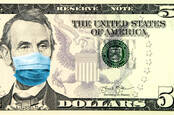 Coronavirus pandemic latest: Trump declares 'two very big words' – national emergency – and unexpectedly ropes in Google to help in some form
READ MORE
On Friday, Google's Twitter-based spokes-account, speaking for Verily, said the hope is to make the service available "more broadly over time."
Inconsistencies with Presidential pronouncements aside – Verily has about 1,000 employees, and the 1,700 figure is said to refer to the number of responses Google CEO Sundar Pichai received following his email to employees last week seeking volunteers to help with the project – the Verily website doesn't actually do much of anything at the moment.
The promised COVID-19 tests depend on the capacity of testing sites and that capacity had been exceeded Monday morning.
Visitors under 18 were told they weren't eligible. Visitors who said they had symptoms were told to seek medical attention. And until Monday afternoon, Pacific Time, visitors who didn't have symptoms but wanted to be tested anyway were presented with a screen saying, "Unfortunately, we are unable to schedule any more appointments at this time."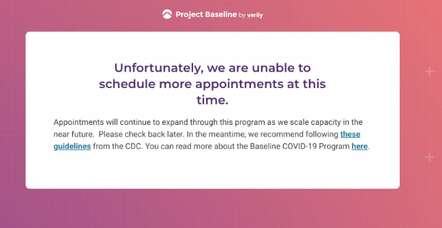 Verily website message saying there are no appointments ... Click to enlarge
The White House presented a flow chart showing how the website would work:
#coronavirus chart pic.twitter.com/d9yR7lAl7C

— Howard Mortman (@HowardMortman) March 13, 2020
Here's how it was working on Monday morning, judging by our experience: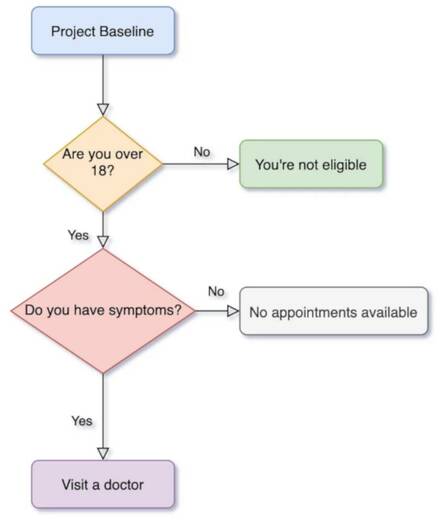 Click to enlarge
Google and Verily did not respond to requests for information about the site's function, but things appeared to have improved by Monday afternoon local time.
Lockdown
Meanwhile, residents of six San Francisco Bay Area counties – San Francisco, Santa Clara, San Mateo, Marin, Contra Costa and Alameda – were told to shelter in place on Monday for the next three weeks. Three other Bay Area counties – Sonoma, Solano, and Napa – are not covered by the order.
San Francisco Mayor London Breed, alongside other San Francisco government officials, held a press conference to announce a Public Health Order calling for residents to remain at home "with exceptions only for essential outings."
City services like garbage, police, fire fighting, and medical services will continue, and grocery stores, pharmacies, banks, and gas stations will remain open. But "non-essential stores," such as bars and gyms, have been directed to close at midnight Monday.
Essential activities include maintaining health and safety; getting supplies; participating in outdoor activity such as exercise or dog walking, provided individuals remain separated by at least six feet; performing essential business or government work; caring for a family member or other dependent or vulnerable person outside the home.
The order is enforceable as a misdemeanor, but San Francisco Police say they will do so only as a last resort. The city is looking for voluntary compliance at this point; other affected counties have their own version of the order. ®