This article is more than 1 year old
Zoom goes boom, Teams tears at seams: Technology stumbles at the first hurdle for this homeworking malarkey
And that's before you even get to microphone and video settings
They knew it was coming and have been desperately building capacity – yet the flood of workers to video conferencing software has proved too much for companies like Zoom and Microsoft.
This morning, with millions of Americans joining the global trend toward social distancing and working from home amid the coronavirus pandemic, demand for services like Zoom's conferencing software and Microsoft's Teams outstripped capacity and starting 0900 on the East Coast, outages began.
As can be seen from third-party observers like DownDetector, the problems only increased as more and more workers woke and logged into their computers to connect with co-workers. As California - the hub of tech activity in America - came online, it only got worse.
Currently Zoom is reporting that its software has "degraded performance" and its phone service has a "partial outage." A quick look at social media confirms that the issue is widespread.
It's fair to say that all remote working companies are scrambling to deal with the sudden flood of users. Zoom, for example, has updated its audio conferencing system in the background in order to people running meeting the ability to change dial-in options: a sign that people who usually do not use its software are having to be guided through it by manager and meeting organizers.
Zoom may be regretting its decision to make hay while the sun shines: all its execs, its CEO, CFO and CIO have been on a media blitz in recent days in an effort to get its name out there. They have been boasting about their low latency, network optimization, decision to remove a 40-minute limit on free accounts and even offering free video conferencing for schools.
"Zoom conquered video chat — now it has even bigger plans," reads the headline from one over-excited publication this morning. It may prove to have been too successful at raising awareness.
Teamwork? Not so much
Not that there is anyone out there who isn't struggling. Software giant Microsoft, which has been heavily promoting its Teams conferencing service the past week, is also having issues.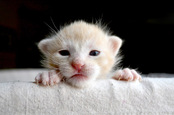 Microsoft Teams gets off to a wobbly start as the world and its cat starts working from home
READ MORE
Faced with the flood of people this morning, with depressingly inevitability, the service fell over. It appears to have partially recovered, although it is still producing a high and steady stream of outage reports. You have to wonder whether people simply abandoned the service and switched to something else if they couldn't log in.
Based on the imperfect system of reports to DownDetector and the number of mentions of outages on social media, it would appear that Google has largely managed to deal with demand - an improvement from late last week. And granddaddy of video conferencing, Cisco's Webex is also handling the load well this morning.
But it is very hard to get a clear picture without the companies' actual stats - and they currently have zero intent of sharing that information.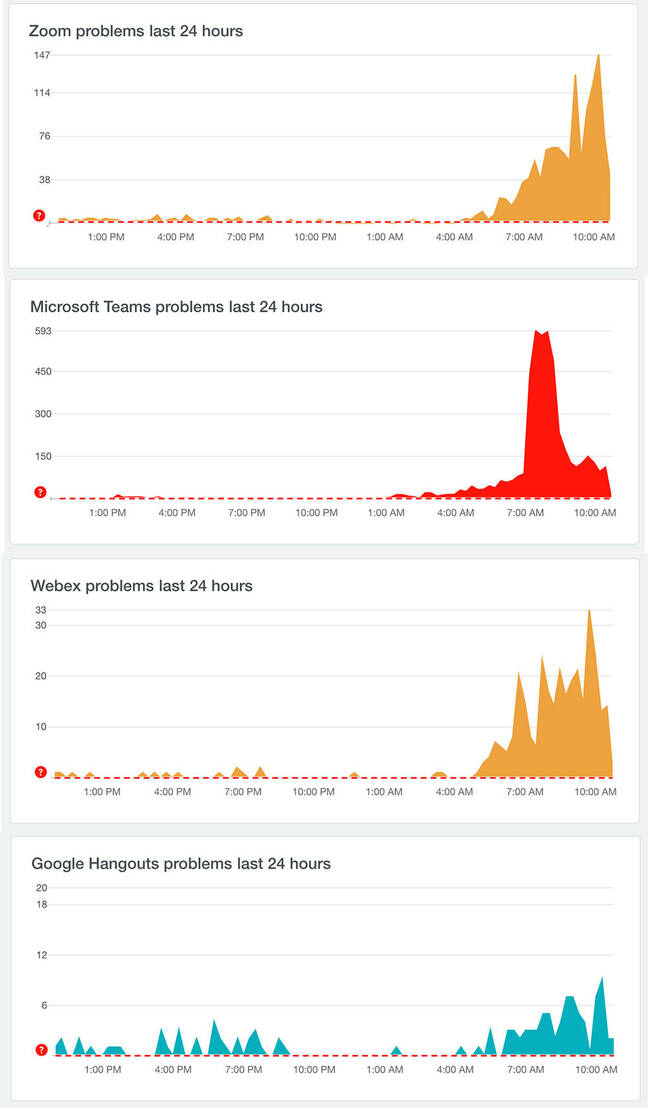 Outages on video conferencing services. Can you see a pattern? ... Tap for full size
But all that comes before the inevitable issues with getting people communicating over their phones and computers. Not just the social aspect of it but, of course, everyone's microphone and video settings.
The sound of the United States this morning: "Can everyone hear me? Can everyone mute if they're not talking? Whoever has dogs, could they please move or turn off their mic?" ®