Data centres are warm and designed to move air very efficiently. Are they safe to visit during the pandemic?
Normal precautions should suffice, ultraviolet hand cream can light the way
Data centres are warm places full of fans designed to efficiently circulate air. Commercial data centres are visited by many people every day. Some of those people could be COVID-19 carriers. The virus doesn't mind warmth and can be spread by airborne droplets that may well have a better chance of floating free in a well-ventilated bit barn.
So if you need to enter your own data centre, or visit a big shared one during the COVID-19 coronavirus pandemic, what should you do to emerge unscathed?
Long story short, take simple precautions and you should be as fine as anyone can be.
We started our exploration of this issue with Andrew Orfanos, president of the Australian Institute of Occupational Hygienists. Orfanos represents professionals who "design and implement appropriate control strategies to prevent ill health caused by the working environment". So he knows a bit about making workplaces safe from chemical, physical and biological risks.
His advice was to take special care around any shared facilities, such as hot desks or shared keyboards and mice, because it's there that an unwitting COVID-carrier may have left their calling card. Indeed, he suggested binning hot desks for the duration.
He also suggested using hygiene training products to help identify places your people congregate. Such products are powders or creams that, after application to surfaces or hands, spread wherever users place their hands. The resulting smears are visible under ultra-violet light and help to show where your people are getting handsy. You can find these products, often a kit comprising product and UV torch, on Amazon and direct from other suppliers. One Australian supplier called Giltterbug currently warns that it is experiencing very strong demand and has run out of UV torches, perhaps making it one of the few businesses to be benefiting from the pandemic.
Orfanos also suggested following the general advice on personal hygiene (wash hands a lot, sneeze into elbows, practice social isolation as much as possible) and World Health Organisation workplace safety guidance (PDF) to regularly disinfect work surfaces, keyboards and telephones.
The USA's Centre for Disease Control (CDC) makes similar recommendations, calling out "tables, doorknobs, light switches, countertops, handles, desks, phones, keyboards, toilets, faucets, and sinks" as worthy of a daily microbe massacre.
So if you find yourself in a commercial data centre or client site, start by cleaning the shared work area you occupy. Rack-mounted keyboard drawers obviously deserve some attention too.
Per the guidance from WHO and the CDC, start by washing your hands with soap and water. Next, use any common household disinfectant to wipe down all the surfaces you'll work on and devices that someone else may have touched. If you don't have commercial disinfectant, the CDC suggests adding 20ml of bleach to 1 litre of water, or a solution of 70 percent alcohol, 30 percent water, as a good swabbing solution.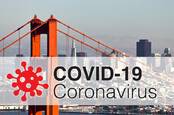 After a weekend of WTF-ing at Trump's COVID-19 testing website vow, Google-Verily's site finally comes to life... And it's not what was promised
READ MORE
Dell likes the alcoholic mixture. In this advice updated on March 16th, the company recommends donning disposable gloves, turning off the device you are cleansing and disconnecting it from the mains. Next, moisten "a microfiber cloth with a mixture of 70% isopropyl alcohol / 30% water. The cloth should be damp, but not dripping wet."
Next, "Gently wipe the moistened cloth on the surfaces to be cleaned. Do not allow any moisture to drip into areas like keyboards, display panels, etc." The reasoning here is simple: you want to kill viruses, not the device. So don't be a drip.
Once you've cleansed the computer, let it air-dry until no moisture is visible and only then turn it back on.
Sound advice all, but it applies to PCs, monitors and accessories. Reg readers faced with a server or storage array that needs a clean have to balance the undesirability of unplanned downtime with the need for COVID-curation. We've asked Dell and HPE for further guidance on that matter.
We've also asked major data centre operators how they're helping.
Equinix told us that it won't let anyone in if they are "experiencing cold or flu-like symptoms including fever, or having knowledge that they have been exposed to someone who has coronavirus in the past 14 days."
"In areas with larger numbers of confirmed cases of novel coronavirus, all visitors are required to have their temperature checked by the security staff using no-contact infrared thermometers," the company added. Anyone with a body temperature above 37.3 degrees Celsius will be turned away.
The company has also placed hand sanitiser at the security counter of all its bit barns and said "All visitors are encouraged to practice elevated levels of personal hygiene while in the data centre."
And there's liquid soap, disposable towels and hand dryers available in data centre restrooms.
Services outfits are wise to the need for their own precautions if they visit your premises.
The Register has been shown HPE's "drawer statement" – official messaging that PR staff keep in a drawer and then deploy during crises – that says "We have implemented global measures consistent with guidance from public health authorities to prevent transmission at our work sites and those of our customers, and to ensure that if team members are exposed or are demonstrating symptoms, they do not come to work. Please rest assured that we will work closely with any customer to prevent disruptions to their service related to coronavirus if needed."
The Institute of Occupational Hygienists' Andrew Orfanos also suggested visitors bring their own small disinfection kit with them on data centre visits.
Long story short: keep it clean out there, dear readers. The Reg wants you safe and sound. ®