This article is more than 1 year old
You get fibre, you get fibre, you all get fibre: UK Ministry of Fun promises new rules to make all new homes gigabit capable
Come on, builders - who doesn't like subsidies?
The UK government has promised to introduce new laws to force developers to ensure new-build properties are capable of gigabit-speed broadband.
The legislation, which the Department of Culture, Media & Sport (DCMS), says will be introduced at the first possible opportunity, will see building legislation amended to ensure all new homes are connected to a full-fibre network.
For the most part, the housebuilding industry has embraced full-fibre broadband, with only one in five new build homes lacking a gigabit connection. Those 20 per cent are predominantly situated in smaller developments, where it's not economically tenable to offer it, due to the steep costs associated with digging up roads and laying fibre-optic cables.
To reduce the burden on developers, network providers will offer subsidies and discounts, with Virgin Media dangling between £500 and £1,000 depending on the site size.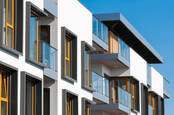 Go on, eat your fibre, new build contractors. It's free! OpenReach lowers limit for free FTTP connections
READ MORE
As previously noted, OpenReach has made its own commitments by capping the amount paid by developers for fibre developments to £2,000, with the per-property cost dropping contingent on site size.
The government expects to have agreements signed with other network infrastructures in the coming weeks.
Caveats, of course, apply. To introduce this, Parliament has to amend existing planning law, which is devolved by its very nature. This means that the new rules will only apply to homes built in England.
The DCMS has said broadband speeds are a priority for the current government, and Westminster said it would work with the devolved bodies in Stormont, Cardiff, and Holyrood to implement these rules in "a consistent manner."
There are also still scenarios where new-build houses may miss out on a phat pipe, for example, if the cost of providing a connection exceeds £2,000, or an operator declines to provide the connection.
In a statement, UK digital secretary Oliver Dowden said: "This legislation means every new home will be built fit for the future and give people access to world-class broadband speeds from the moment they move in."
"It's all part of our plan to deliver on our commitment to give everyone in the UK access to gigabit broadband, as we connect and level up the country," he added.
As many in the UK move their workstations to their home office kitchen table, this can't come soon enough. ®