The Unihertz Atom XL: An iPhone SE-sized rugged phone that's also a walkie-talkie
Kickstarter caveats apply
Hands on Oh, how we'd love to be a fly on the wall at the offices of Chinese phone maker Unihertz. The company has a reputation for producing incredibly niche phones that cater to demographics that are otherwise ignored by most others. Take the Unihertz Titan, for example, which was a rugged homage to the Blackberry Passport.
And there's the subject of this review: the Android 10-powered Unihertz Atom XL. This is a heavy duty phone with a tiny (at least, by today's standards) 4-inch screen. The end result is a handset that feels like a high-tech KitKat Chunky, being simultaneously both narrow and thick.
The "XL" in Atom XL may feel like a misnomer, but it's justified when you compare this effort to its predecessor, the 2018 Unihertz Atom, which came with a 2.45-inch 432*240 display.
Nonetheless, the Atom XL's diminutive display will force you to redevelop your entire muscle memory, as the smaller screen naturally infers a smaller keyboard. And while it's still very much possible to type on it, you'll notice your tempo and accuracy drop, unless you have fingers that are especially thin and lithe.
While we're talking about the screen, it's worth mentioning it isn't the best we've ever seen. As you've probably noticed from the product photography, it's extremely dim, making it hard to read on bright, sunny days. It's also not especially high-resolution, and if you look closely, you can distinguish individual pixels.
The Atom XL feels comfortable to hold, and has a weighty presence that you'd expect with a rugged blower. On each corner are rubberised, rounded edges that can absorb the impact of any drops. The chassis is encased in metal and rubber trim, and the camera sits snugly within the chassis — unlike many conventional phones, where it pokes out slightly.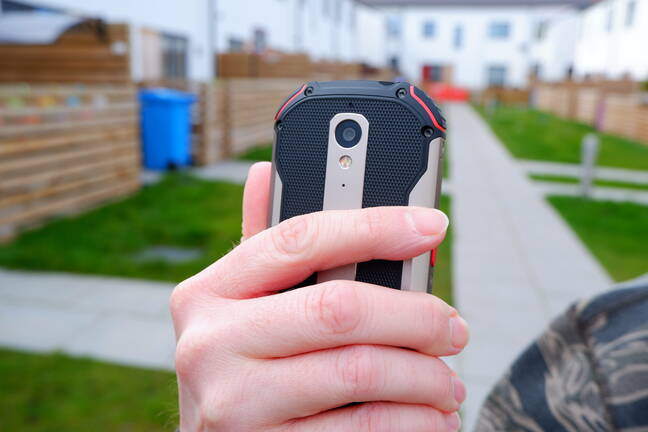 In terms of optics, the Unihertz Atom XL packs a single 48MP sensor. And while that may sound impressive, it doesn't really translate into real-world results, with photos appearing flat and washed out.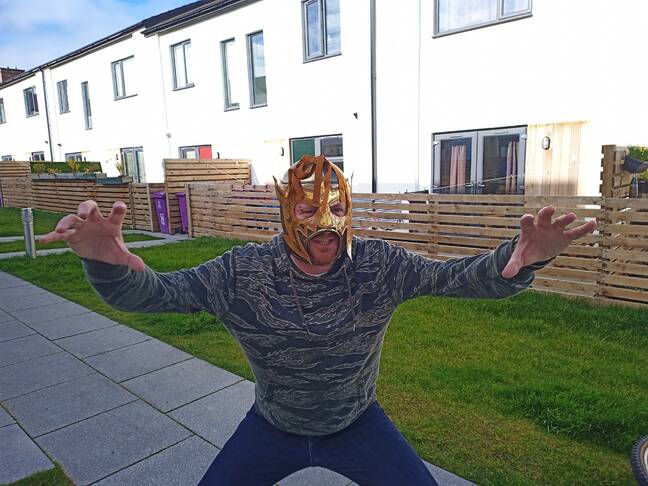 Walkie-talkie comms
Going back to the design, there are a few interesting quirks about this phone that are worth noting. On the top of the device, covered by a rubber flap, is a socket for a DMR walkie-talkie antenna. This supports two-way communications over the 400 to 480MHz spectrum.
Sadly, this is something we weren't able to test, as nobody in the immediate vicinity had a compatible device – if we just wanted to talk aimlessly into the void, we'd post something on Twitter.
Another quirk is a loop, allowing you to attach a strap. Cool perhaps isn't the right word — as, in terms of chicness, this is one step away from having your phone clipped to your belt — but it's something that may come in handy for those who need to keep their device at-hand.
At the bottom of the phone, there's a USB-C slot and a 3.5mm headphone jack. Neither of these are covered by a rubber flap, which is a somewhat common convention for rugged phones. That said, I'm not complaining. In my experience with handsets from other players in the sector, like BlackView, these protective covers can make charging a fiddly process, and prevent the user from using cables from third-parties.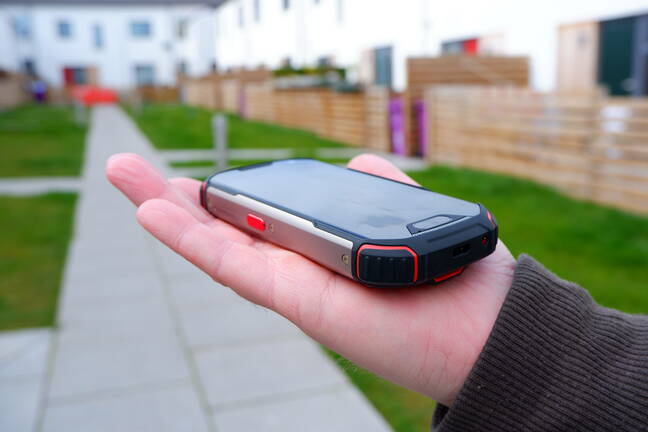 That said, the Atom XL carries an IP68 rating — meaning it's both water- and dust-proof. You'd expect as much, given it's a rugged handset, aimed at those working in the roughest of industries.
The phone carries a slightly sedate MediaTek Hello P60 platform, paired with 6GB of RAM and 128GB of internal storage. The latter feels a touch overkill, given it's unlikely you're going to watch films on the Atom XL, but nonetheless, it's welcome.
The battery is a 4,200mAh affair. Although it supports fast charging, wireless charging is nowhere to be found. It does, however, include an IR Blaster, allowing you to use the Atom XL as a universal remote control. It ships with an app to facilitate this — as well as a gentle flurry of other assorted bloatware.
As is the case with previous devices, Unihertz has launched the Atom XL on Kickstarter, with an early bird price of $259. When or if it eventually hits retail, it'll cost $339.
Obviously, the usual warnings apply. Crowdfunding is an especially risky way to acquire new kit. Whatever you buy is at risk of being delayed — or, in many cases, not being shipped at all.
There's no shortage of cheap rugged devices being churned out by Chinese brands, like Ulephone, Doogee, and BlackView. What sets this apart is, in our opinion, the form factor. The 4-inch screen goes a long way to differentiating this phone in an already crowded market. It's chunky, sure, but it also feels weirdly diminutive.
And for those who aren't working in rough-and-tumble industries, like construction, energy, and forestry, we can imagine the Unihertz Atom acting as a burner phone for festivals and the like, where you wouldn't feel comfortable taking your pricey blower. It feels like it could survive an entire Radiohead concert submerged in mud.
Cautious crims and festival goers are two niche categories (the latter particularly so, given the latest COVID-19 outbreak), so one wonders how many of these devices Unihertz will actually sell. That said, in 2019 it released a BlackBerry Passport throwback, so I'm sure it'll figure it out. ®