This article is more than 1 year old
Apple updates iPad Pro with a trackpad, faster processor. Is it a real computer now?
Ooh, check us out rivals, we've got a 'keyboard'.. well, not a real one. It's Magic, OK?
A common refrain in Apple's hymnbook is that the iPad Pro is a legitimate computer, much like a MacBook Pro. Marketing aside, most professionals are yet to be convinced, noting that Cupertino's increasingly pricey fondleslabs lack the essential features of a computer – like, for example, a pointing device.
Enter the latest iPad Pro, which received a radical refresh today. Apple claims the new model – which comes in 11-inch and 12.9-inch variants – is "more powerful than most Windows PC laptops." Their words, not ours.
At the heart of the device is an overhauled octa-core A12Z Bionic platform that Apple claims has improved thermal management versus previous versions. You'll likely need it, given Apple is touting the iPad Pro as a tool for editing weighty 4K video footage.
Apple has also tarted up the optics, adding a second camera. In addition to a 12MP wide-angle shooter, there's also a 10MP ultra-wide camera that's capable of 2X optical zoom. Accompanying that is a LIDAR scanner, which can help the tablet understand the tablet's surroundings – something that's useful for AR applications.
On the sound front, the pricey tablet also includes a constellation of five microphones, which can capture audio with a better fidelity than previous models, and is more capable of negating background interference.
Arguably, the most manifestly important change is on the peripheral front, thanks to the release of new keyboard that for the first time includes a trackpad.
This has been a long time coming. Apple introduced pointer functionality with the first iPadOS release, but it wasn't really pitched as a tool for everyday use, but rather an accessibility feature. This was a bit of a head-scratcher, particularly when the primary rival to the iPad Pro, the Microsoft Surface, had (obviously) included trackpad support from day one.
Analyst Ben Wood at CCS Insight opined: "For years Apple resisted support for a mouse and trackpad on the iPad. That changed last year with the announcement of support for external storage and a mouse on iPadOS. Apple has now fully embraced that user interface paradigm with the inclusion of a trackpad on the new 'magic keyboard'. It will be interesting to see how this changes the user interaction with an iPad and how application developers take advantage of it."
Per Apple, iPad OS 13.4's trackpad support is fairly fleshed out, and supports the usual gestures that let you traverse apps and multitask easily. Most existing apps should support gestures already, although Apple is offering specific iPad trackpad APIs for those apps to add their own functionality.
The new Magic Keyboard is undoubtedly the most interesting iPad Pro keyboard announced to date. As the name implies, it uses the scissor mechanism found on the 16-inch MacBook Pro – as well as the latest MacBook Air, which Apple also drew the veil back on today.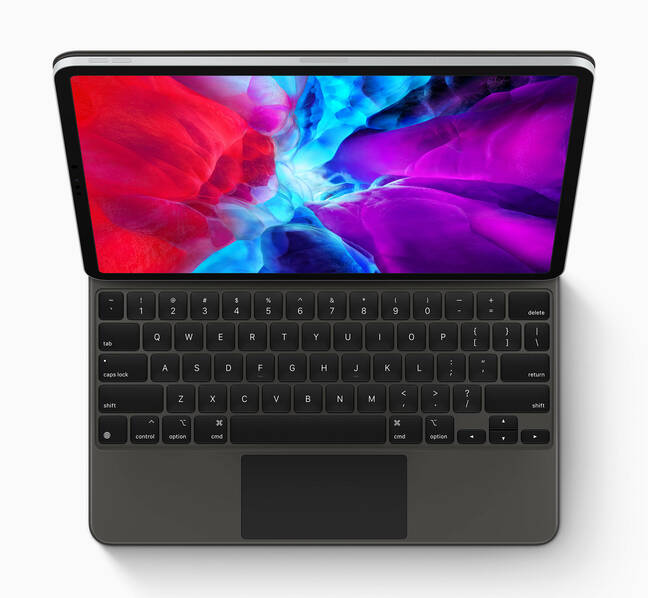 The Magic Keyboard includes a floating hinge design that allows users to adjust the height of the display in relation to the keyboard. Users can also adjust the viewing angle up to 130˚. There's also a USB-C port for charging, allowing users to use the tablet's USB-C device for other stuff, like external storage.
Really... it costs that much?
Of course, this doesn't come cheap. The base 11-inch slab retails at £769 for the Wi-Fi model and £919 for the LTE variant. Prefer a larger screen to play with? The 12.9-inch iPad Pro starts at £969 for the Wi-Fi model and £1,119 for the cellular-capable one.
For that, you get 128GB of storage. This can be boosted to 256GB, 512GB and 1TB, but at a steep cost.
And that's before you factor in the price of the Magic Keyboard, which retails at £299 for the 11-inch model, and £349 for the 12.9-inch model. Want an Apple Pencil? That'll be a further £119.
So, yeah. Any configuration of the iPad Pro will be a pricey proposition. It compares reasonably to its closest rival, the Microsoft Surface Pro 7, however. A middle-of-the-road config of Redmond's premium tablet will set you back over a grand, and that's before you consider the price of a keyboard.
Wood at CCS Insights added: "It is hard to assess how well the ['Magic Keyboard'] concept works without trying it, but it is certainly a compelling design, which is likely to be the main talking point around this latest version of the iPad Pro. The only issue I foresee is that it will have an eyewatering price tag, particularly given the existing Smart Keyboard Folio for the current iPad already costs £179, which is more than a 10-inch Amazon Fire HD 10-inch tablet."
In theory, the Magic Keyboard has the potential to elevate the iPad Pro to a more universal productivity tool, rather than the preserve of road-warrior creatives. Whether this new approach will help boost its market share is anyone's guess, however.
Those familiar with El Reg's fraught relationship with Cupertino will have probably guessed that we weren't pre-briefed for this. Not to worry though – we can't wait to go to an Apple Store and get our hands on…
Oh. Never mind. ®