This article is more than 1 year old
HPE celebrated diversity on International Women's Day not with pictures of its own staff but stock images of models
IT giant eventually swaps pic for photo of actual staff after El Reg prod
Hewlett Packard Enterprise celebrated the work of its female staff on International Women's Day with stock photos of suited models rather than, you know, its actual employees.
Alan May, enterprise veep and chief people officer at HPE, made the gaffe in a 5 March blog post that was all about "championing equality" and celebrating the "bold and talented women who have contributed to the shape of the company today."
"Inclusion and diversity are more than just a 'check in the box' activity at HPE – uncontrolled inclusion is a business imperative," cheered May.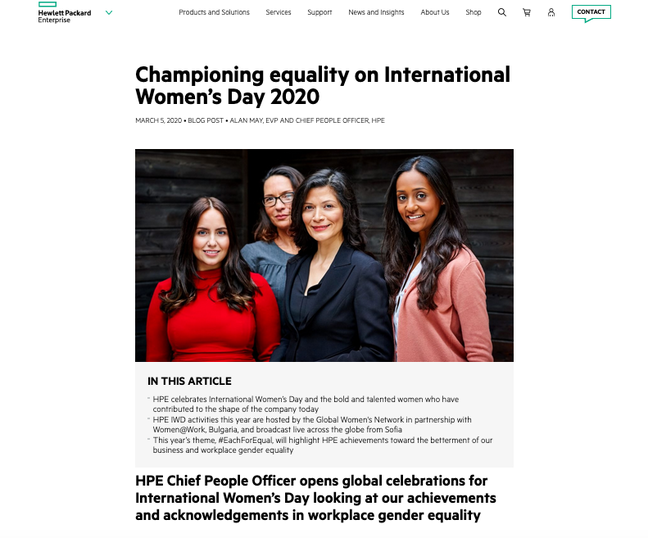 These people do not work for HPE: The stock image used on the tech giant's blog ... Click to enlarge
"When people feel respected, involved, valued and connected every day, they are able to be their best selves at work. We believe that everyone, regardless of gender, age, religion, sexual orientation or ethnicity, should be given equal opportunities to pursue and obtain the career experiences they want and need."
May highlighted HPE's 100 per cent score in the Human Rights Campaign's Corporate Equality Index 2020, the nod the vendor got from the Bloomberg Gender Equality Index for 2020, as well as landing plaudits from the National Association of Female Executives due to 46 per cent of the board being women and 17 per cent directly reporting to CEO Antonio Neri.
What better way to celebrate these achievements on International Women's Day than with a photo from Getty Images of four people who do not and have never worked at HPE.
The Register pointed out the error of HPE's ways to the IT titan, and the marketing team rapidly responded by updating the blog post's photo to one of real HPE staff at its Women@Work event in Bulgaria on International Women's Day (IWD).
An HPE spokesperson also told us:
Thanks for pointing out that we initially used a stock image on this blog post because it was posted prior to the start of the event. We've now updated with a photo to highlight our IWD event in Sofia, Bulgaria.
In HPE's 2018 Living Progress report, the tech giant revealed women make up 32 per cent of its 61,000-strong global workforce [PDF], hold 24 per cent of its management positions, and were 32 per cent of new hires. Better than some in an industry dominated by men, though still lots of work to do.
According to the UK government's Gender Pay Gap for 2018/19 stats, the average hourly wage of women employed by HPE was 27.3 per cent lower than male colleagues.
HPE's 2019 Living Progress Report is not yet live but mistakes such as lazily selecting stock Getty photo images instead of snapping one or more of the thousands of its women employees don't help the cause. ®