This article is more than 1 year old
IBM puts 1,248 frontline techies at risk of redundo, warns of data centre closures
The axe prepares to fall on Global Tech Services staffers, including former Lloyds and Vodafone peeps that TUPED across
Exclusive IBM has put 1,248 heads in its UK Global Technology Services (GTS) division at risk of redundancy with a little over one fifth of those ultimately facing the long walk down the company corridors to collect their P45s.
As revealed last month, IBM asked its front line techies in the Infrastructure Services (IS) and T&T Delivery team to form an Employee Consultation Committee (ECC) ahead of a 45-day period of collective dialogue.
In notes from that first meeting in early March, Rudolph Oudeboon, GTS veep for infrastructure service delivery and an exec programme sponsor for the ECC, framed the "Business Situation" that led to its decision.
He pointed to the 4 per cent decline in GTS during Q4 2019 and said: "Infrastructure Services continue to be challenged by our margin improvement target, with our current trajectory not showing the growth we need, as well as the erosion of existing contracts continuing to challenge us."
He added: "The situation is serious in terms of IBM's position in the market, our overhead, complexity and cost that many or most of our competitors do not carry. This is negatively impacting our ability to compete successfully in the market."
A number of jobs in recent years have been redeployed from IS to "roles that are strategic for the future of GTS," the exec said, arguing personnel that are "more closely aligned to clients" tend to get better results.
Oudeboon added:
"Infrastructure Services need to have more direct and adequately skilled client-facing employees, with a shift of focus from indirect and above market roles to client centric new business growth within the market."
He said there was also a shift to public cloud by customers and the "profile of the work" IBM delivers is changing.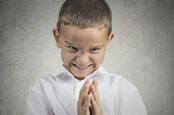 Black & Blue: IBM hires Bain to cut costs, up productivity
READ MORE
In addition to trimming headcount in IS Delivery in 2019, IBM has also continued to run an "aggressive cost take-out" programme, including cutting Infrastructure and Facilities spending, vendor spend optimisation, sub-contractors' displacement and increased use of automation.
IBM is looking to do more of the above, as well "closing facilities and data centres, reducing communications costs," the ECC notes stated.
The upshot of cost-cutting actions for GTS is that it is "proposing to reduce the number of employees of UK IS Delivery and T&T by 263 employees." Voluntary redundancy will be the first option and forced redundancies may be used if that figure isn't achieved.
In total, 1,248 people have been put in scope, or at risk, including 126 Transition and Transformation people; 353 from Project Services; 175 working on the Lloyds account (remember, those people TUPED across in 2017); 197 on the Vodafone account (remember, those TUPED across last year) and 397 classified as "All other IS Delivery").
Statutory minimum redundancy terms are being offered to GTS IBMers. Those who exit under voluntary terms are estimated to leave on 26 June and those forced out of the door will be gone by 26 August. ®