This article is more than 1 year old
Official: Apple debugs MacBook Air of sucky Butterfly keyboard
Scissor switches in, plus a silicon upgrade
As predicted, Apple is steadily purging its laptop line of the fault-prone butterfly keyboard, which infuriated punters and genius bar techies alike.
The latest device to get an upgrade to the revived scissor-switch mechanism is the MacBook Air, which today received a fairly substantial upgrade.
Beyond the keyboard, Apple has upgraded the storage on the base model, going from a paltry 128GB, to a more generous 256GB. Users can also choose to configure their machine with up to 2TB – although this will inevitably come with a wallet-punishing price tag.
On the silicon front, Apple has upgraded the Air with Chipzilla's latest 10th generation CPUs. And while an incremental upgrade was inevitable, it's interesting to note that Apple now offers a quad-core i7 configuration, which arguably blurs the line somewhat between the MacBook Air and 13-inch MacBook Pro.
The shift to Intel's 10th gen chips also entails better graphics, and Apple says the MacBook Air can surpass the previous generation by up to 80 per cent. This, obviously, will depend on how users choose to kit their machines out. Nonetheless, it's clear Apple is positioning the Air as a viable tool for more computationally intense tasks, like gaming and editing video.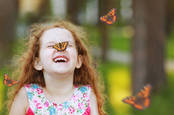 The butterfly defect: MacBook keys wrecked by single grain of sand
READ MORE
And, on that note, it's also worth mentioning that the Air can now output 6K video via its two Thunderbolt 3 ports. So, if you buy one of Apple's arse-clenchingly expensive Pro Display XDR monitors, you can make use of every pixel. Again, this is something that'll cater to creative users, which has long represented a major swath of Apple's customer base.
Of course, the biggest (and most welcome) change is the aforementioned keyboard, which discards one of the most unfortunate designs to emerge from Apple since the RSI-inducingly-awful puck mouse.
The Butterfly keyboard was a catastrophe for Apple, denting its esteem as a manufacturer of intuitive and functional kit, and causing it to haemorrhage once-devoted customers who were forced to look elsewhere. Not only was it loud and uncomfortable to type on, but the Butterfly key switches were easily gunked up with dust and debris – and almost impossible to independently repair.
Apple has gradually been phasing out the butterfly keyboard, starting with the 16-inch MacBook Pro, released last year. And while that was an unambiguously pricey machine aimed primarily at professionals, the MacBook Air has a broader consumer appeal. That's inevitable, given it's the cheapest laptop in Cupertino's lineup.
As of now, the sole machine currently using the Butterfly mechanism is the 13-inch MacBook Pro, which is also due an update. Per noted Apple analyst Ming-Chi Kuo, an upgrade is expected early this year – and is rumoured to come with a slightly bigger 14-inch display.
The refreshed MacBook Air retails at £999 in the UK or $999 in the US, and is available to order today online, with the machine hitting stores next week – although presumably not at Apple's own, given they've been closed due to the COVID-19 pandemic.
By way of conclusion, it's also worth mentioning Apple has additionally slightly overhauled the Mac Mini, doubling the storage on the base £799 ($799 in the US) model to 256GB, while the £1,099 model ($1,099 stateside) comes with 512GB. These are available to buy now from Apple's website, with other retailers to shortly follow. ®