Dell has developed guidance for cleaning its data centre products, on the off-chance you feel like giving them a once-over during these complicated times.
The Register raised the prospect of data centre hygiene earlier this week when we pondered if it's a great idea to walk into warm buildings that are full of fans and plenty of shared workspaces. That story linked to Dell guidance on cleaning client devices. And now the tech giant has added a section on cleaning its servers, storage, networking and hyperconverged products.
The guidance kicks off with advice that Dell Technologies' enterprise products "are not high touch products and that data centers should have a clean room policy where people are required to sanitize their hands before they enter, it should not be necessary to sterilize surfaces that are not commonly touched. However, if the business requirements call for sterilization for an abundance of caution, Dell Technologies highly recommends engaging a professional cleaning company that specializes in sterilizing data center equipment."
If you can't hire a pro, Dell "recommends that customers exercise extreme caution when sterilizing and disinfecting their Dell Storage, Networking, HCI, and Server products. "
How cautious? Dell wants you in disposable gloves, and wants you washing your hands once you remove them. If you need to power kit down, do it the proper way.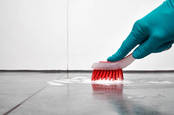 Data centres are warm and designed to move air very efficiently. Are they safe to visit during the pandemic?
READ MORE
Dell says you should only clean "external surfaces such as handles and other common touchpoints."
"Do not open cabinet and chassis doors or attempt to clean any internal components."
If that leaves you worried about plucking some disks out of a SAN, the advice also says "Never spray any liquids directly onto or into any product. Do not expose any internal components of Dell Technologies data center products to moisture."
So more gloves then, we expect!
Dell reckons the best way to wipe your stuff down is with a mix of 70 percent isopropyl alcohol and 30 percent water, partly because other chemicals could change the appearance of your kit. And given the effort that Dell and other data centre kit-makers put into their bezels, that might be the best advice of all! ®
Similar topics