This article is more than 1 year old
Netflix starts 30-day video data diet at EU's request to ensure network availability during coronavirus crisis
Looks like you'll have to stream Derry Girls in lower resolution for a bit
Netflix will reduce the quality of its streaming videos in Europe in response to the European Commission's request on Thursday that streaming services and telecom operators throttle their data streams to avoid overloading the internet.
The concern is that with COVID-19 keeping so many people in their homes, extra demand for high-definition video could overload network capacity at a time when so many remote workers depend on data for more serious tasks than catching up on the latest dramas.
"As a result of social distancing measures put in place across Europe to fight the Coronavirus pandemic, the demand for Internet capacity has increased, be it for teleworking, e-learning or entertainment purposes," the EC said in a statement. "This could put networks under strain at a moment when they need to be operational at the best possible level."
Thierry Breton, Internal Market Commissioner for the EC, said he spoke with Netflix CEO Reed Hastings about the situation.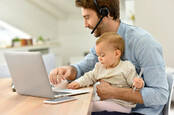 Microsoft, Google, Slack, Zoom et al struggling to deal with a spike in remote tools thanks to coronavirus
READ MORE
"Streaming platforms, telecom operators and users, we all have a joint responsibility to take steps to ensure the smooth functioning of the Internet during the battle against the virus propagation," said Breton.
In a statement emailed to The Register, Netflix said it will comply. "Following the discussions between Commissioner Thierry Breton and Reed Hastings – and given the extraordinary challenges raised by the coronavirus – Netflix has decided to begin reducing bit rates across all our streams in Europe for 30 days," a company spokesperson said.
"We estimate that this will reduce Netflix traffic on European networks by around 25 percent while also ensuring a good quality service for our members."
Netflix has started implementing its data-saving measures but The Register understands that it may take a few days before European customers see the impact.
Netflix customers elsewhere can make that choice themselves, turning Ultra HD (25 Mbps) or HD streams (5 Mbps) into SD streams (3 Mbps), if they wish.
EU network operators have acknowledged increased demand for data but not enough to cause slowdowns or outages, regulators state. Even so, the EC says it's working with the Body of European Regulators of Electronic Communications (BEREC) to set up a data usage reporting system to alert operators and regulators to potential network capacity issues.
The EC announcement follows efforts by telecom services in member states to moderate customers' hunger for data. On Sunday, a group of telecom companies in Spain issued a joint statement [PDF] calling on customers to use communication networks responsibly.
The companies, including Orange, MasMovil, Telefonica, and Vodafone, along others, ask customers to prioritize tele-work applications during the day and to shift usage of streaming video and gaming to off-peak hours. IP networks, they said, are experiencing an almost 40 per cent increase in traffic.
Heficed, a London-based network infrastructure provider, claims that demand for internet servers among its customers is up at least 30 per cent due to network usage changes following from COVID-19. Nonetheless, there are doubts that increased data demand arising from viral behavioral changes will lead to network problems.
Last week, global network service provider Cloudflare said internet traffic in Italy from March 5 through March 12 rose 30 per cent. And people there are also using the internet in different ways.
Cloudflare said online chat systems are seeing 1.3x to 3x normal usage while video streaming has more or less doubled. And news websites are seeing 30 to 60 per cent more traffic, with online gaming up about 20 per cent. No doubt some other sites of a more adult nature were also seeing a rise, but Cloudflare was too tasteful to point that out.
In a recent analysis published via LinkedIn, Gaël Hernández, senior manager of interconnection policy and regulatory affairs at Packet Clearing House (PCH), suggested that a traffic bottleneck due appears to be unlikely given current network capacity. DE-CIX Frankfurt's switching platform, he observed, has a capacity of 54.1 Tbps, about 9x more than peak traffic last week.
Cloudflare also said the traffic surge doesn't really raise concerns. "Cloudflare's network is well provisioned to handle significant spikes in traffic," the biz said. "We have not seen, and do not anticipate, any impact on our network's performance, reliability, or security globally." ®