This article is more than 1 year old
Surge in home working highlights Microsoft licensing issue: If you are not on subscription, working remotely is a premium feature
Customers on-premises with perpetual licences 'don't have a good story' for remote working
Working from home and want to access your PC at work? The best solution may cost thousands in additional Microsoft licensing costs.
In the scramble to migrate employees to home working, there are issues for businesses who normally have staff in an office working on desktop PCs, or accessing network file shares and intranet applications, or running applications that connect to an on-premises database.
This poses some difficult and potentially risky and expensive questions for organisations that are not already set up to have all or most of their staff working remotely. Business continuity is top of mind, but as security expert Bruce Schneier has observed: "Worrying about network security seems almost quaint in the face of the massive health risks from COVID-19, but attacks on infrastructure can have effects far greater than the infrastructure itself."
One area of concern is the risk from users on home PCs accessing corporate assets. "These systems are more likely to be out of date, unpatched, and unprotected. They are more vulnerable to attack simply because they are less secure," noted Schneier – and that is before taking into account the variety of websites visited and software installed by family members, including children.
Staff working at home could use a VPN to connect to the corporate network. VPNs have many advantages, but by putting the remote machine in effect on the internal business network, it also poses risks, for example if malware on the remote machine is able to damage business assets.
Microsoft has some solutions for remote access without a VPN, including a feature of Windows Server called Remote Desktop Gateway (RDS Gateway). Users can connect to the gateway over SSL (no VPN required) and use a Remote Desktop client to access their work PC, or a desktop session on Windows server, or a desktop application running on the server.
The snag here is that using RD Gateway requires a Remote Desktop Services Client Access License (CAL), as Microsoft makes clear in this document [PDF]:
"An RDS CAL is required to use any functionality included in the Remote Desktop Services role in Windows Server. For example, if you are using RDS Gateway and/or Remote Desktop Web Access to provide access to a Windows client operating system on an individual PC, both an RDS CAL and Windows Server CAL are required."
An RDS CAL can cost over £100 per user – we found a single CAL on sale from Microsoft for £186.53, though you can do better from other resellers and with bulk licensing deals.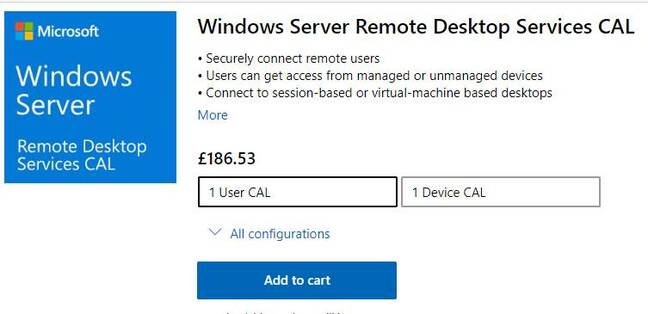 Just the thing for a pandemic: an extra fee to have your users work remotely
In addition, some vendors have curious rules about remote access to their applications that incur additional fees. Rich Gibbons, a licensing trainer at IT Asset Management (ITAM), noted that Citrix and/or Remote Desktop Services are "the easiest way to quickly become non-compliant with a LOT of vendors."
Clash of cloud cultures
The problem here is a fundamental one, which is that companies including Microsoft are in a hybrid world, part based on cloud concepts where everything is on the internet and easily accessed from all kinds of devices, and part based on traditional business networks with servers, locally installed software and desktop PCs. The licensing model for these two types of environment is different, with the traditional environment generally being more complex. Customers who license applications like Windows and Office on a per-user subscription are much better placed than those with perpetual per-device licenses.
Wes Miller, is a research analyst and licensing specialist at Directions on Microsoft, based in Kirkland near Seattle. He told us that Microsoft is trying to move to the cloud model, but "a lot of customers are stagnating; they don't want to pay for the subscription. It's on-premises versus cloud. It's per-device vs per-user. And it's perpetual licensing vs subscription licensing. You have to put all three of them together.
"What we've got is a lot of customers, especially regulated and institutional customers, who either for regulatory or cost reasons don't want to go into the cloud and subscriptions, they want to sit on-premises with perpetual product, and they don't have a good story of how to help their employees go remote today."
Crisis measures
Security is one thing, but in the midst of a global pandemic, does anyone care about licensing? "You're not going to get audited right now," Gibbons told The Reg. "But in six months or whenever this is over, you need to know what you've done."
Miller concurs. "I think we're going to see a grace period here. When those audits do start back up, I think businesses may well be able to ask for some sort of grace period or leeway, but the reality is, if you put something in place to meet these new work scenarios, you need to expect to pay for whatever Microsoft's current licensing model is for that."
If you need Windows and Office, and are on a Microsoft 365 licence (not just Office 365), it is worth noting that Windows Virtual Desktop (WVD) running Windows 10 can be used without an additional licence or RDS Cal. You still need an RDS CAL for accessing Windows Server desktops and apps, if needed. Optimising licensing costs is a specialist task but can make a big difference to costs.
Miller says a virtual desktop environment is a good answer. "Solutions like Windows Virtual Desktop (WVD) or using the server-based variant of Amazon Workspaces, have been license-proven and the technology is proven, at least in the case of Amazon Workspaces, WVD being newer. The biggest thing is, approach it in context with either what you own, or what you are willing to buy, which is weird to think about given the current time we're in."
For customers not on subscriptions, Microsoft's habit of treating remote access as a premium feature looks out of date, and in the current circumstances particularly unwelcome. These problems do not exist if you are using born-in-the-cloud solutions like Google's G Suite, and largely disappear if you are on a Microsoft 365 subscription. Remote access is now the norm, which means Microsoft should give up its addiction to things like RDS cals. Customers too will have to adapt, with subscription licensing now hard to avoid. ®