Electric car maker Tesla has been forced to suspend production at two of its main production sites, as state authorities in the US impose restrictions on economic activity in a bid to stem the growth of the COVID-19 pandemic.
Just two days ago, a reduced cohort of Tesla CEO Elon Musk's employees were told to continue work at the automaker's factory in Fremont, Alameda County – despite the fact that San Francisco Bay Area was already in near-lockdown.
Earlier this month, Tesla drastically reduced its workforce at its Fremont plant to 2,500 (a quarter of the usual staffing levels), after the shelter-in-place order issued by the local Almeda County government.
The firm will now shutter its primary manufacturing plant, located in the Bay Area town, after the introduction of strict shelter-in-place restrictions by California Governor Gavin Newsom, who ordered people to stay at home and limit "non-essential" business activities.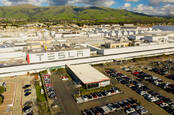 The show Musk go on: Tesla defies SIlicon Valley coronavirus lockdown order, keeps Fremont factory open
READ MORE
Tesla has also temporarily halted work at its New York state factory – best known as Giga New York, or Gigafactory 2. This facility is located near the borders with Pennsylvania and Ontario, and mainly produces photovoltaic cells for Tesla's clean energy business, as well as charging equipment for the company's electric vehicles. As of early this year, it employed around 1,500 people.
At the time of writing, neither the New York Governor Andrew Cuomo, nor the local authorities in Erie County, where the Gigafactory 2 is based, had issued shelter-in-place orders.
Of course, the current COVID-19 situation is fast-moving, and circumstances can change almost overnight. Already, authorities have recorded 5,713 confirmed cases in New York City alone.
Proactive measures offer a degree of certainty to employees and investors alike. Furthermore, there's little point in maintaining full production when other factories are mothballed.
Tesla states that its Nevada Gigafactory, which produces batteries for its cars and PowerWall storage solution, remains operational. So too does the company's service and supercharging network. The firm is also looking at implementing "touchless deliveries," which would allow customers to take delivery of their cars without having to interact with a company representative.
According to a statement issued by the company, Tesla has enough cash on hand to weather a prolonged shutdown. At the end of Q4 2019, it had $6.3bn in the bank – not including its recent $2.3bn funding round. It also said it has $3bn in available credit across all regions – although it noted this includes financing for the expansion of its Shanghai factory.
In its latest financial report, for the full year 2019, Tesla failed to turn an annual profit, losing a whopping $862m over the year – which is nonetheless better than its $1bn loss in 2018. The firm achieved record vehicle deliveries of 112,095 for Q4 ended 31 December, meaning annual deliveries were over 350k. The company said in the same report that for full year 2020, "vehicle deliveries should comfortably exceed 500,000 units". This may put the brakes on that somewhat. ®
Similar topics