To coincide with *checks press release* the 11th anniversary of SAP's decision to make sustainability a "long-term strategic goal," the German ERP juggernaut has announced a partnership with consulting and accountancy titan Accenture to develop solutions for upstream oil and gas companies based on the SAP S/4HANA Cloud.
The two technology players promise to employ technologies such as "artificial intelligence" to increase visibility into operations and cash flow in the upstream oil and gas sector – that is the sector which goes looking for new reserves of fossil fuels.
It is fair then to assume Accenture and SAP want to make this activity cheaper and easier, despite the fact that fossil fuels make up 65 per cent of greenhouse gas emissions. It's interesting timing against the backdrop of declining, depending where you are, fossil fuel consumption for power generation, and an increase in air quality in regions under lockdown to stop the spread of the novel coronavirus as folks stop using their cars.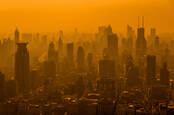 Bad news: Coronavirus is spreading rapidly across the world. Good news: Nitrogen dioxide levels are decreasing and the air on Earth is cleaner
READ MORE
SAP said S/4HANA Cloud for upstream oil and gas would help oil and gas companies reduce total cost of ownership and operational costs, as well as create new revenue opportunities.
"Working together with Accenture and a consortium of industry leaders, we have delivered an industry-defined intelligent solution that has the capabilities upstream oil and gas companies need to reduce complexity by using market standards," said Benjamin Beberness, SAP global veep of its oil and gas business unit.
To define market-standard end-to-end processes that are preconfigured within the solution, SAP and Accenture are working with a consortium comprised of leading exploration and production companies including BP, Chevron, ConocoPhillips, Equinor and Shell.
"This release represents an important milestone demonstrating the impact of our ongoing collaboration," said Scott Wahl, upstream CIO at Shell. "We look forward to continuing to work together to deliver a mature solution that creates business value for the upstream oil and gas industry."
But maybe SAP's chief sustainability officer Daniel Schmid was not in the loop as the software giant was pursuing the partnership. Just a year ago, he was flag-waving 10 years of sustainability at SAP.
In 2019, he opined: "From the very beginning, SAP's key lever was to enable customers to create positive economic, social, and environmental impact through our solutions."
To its credit, in 2017 the company did commit to being carbon-neutral by 2025, which would be five years earlier than Microsoft.
The Register is in no position to question SAP's efforts in sustainability, but perhaps chief among the things it is most interested in sustaining are its revenue and profits. ®