As Apple stores outside of Mainland China remain stubbornly closed, the firm has dropped the two-iPhone limit on its website, allowing customers to (theoretically) spend millions on shiny new mobes.
The change was first spotted by Reuters. Navigating to the US or Chinese Apple website, the usual quantity drop-down has been changed, allowing punters to purchase up to 999 iPhones.
I tested this for myself, whacking in my wife's zip code from when she lived in the States. If you're curious, it costs just over $1.56m to buy 999 iPhone 11 Pro Max 512GB handsets, when you factor in New Jersey's 6.625 per cent sales tax*.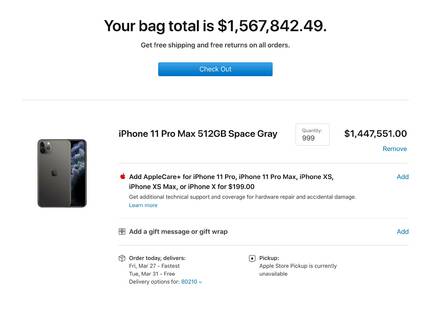 Click to enlarge
If you're lucky enough to live in the tax haven of Delaware, you only pay the ticket price of $1.44m. A bargain, particularly when you factor in Apple's generous offer of free standard shipping.
For some reason, Apple is limiting UK punters to just six phones per order. And with the imposition of transatlantic travel restrictions, there's no chance of jumping on a flight and stuffing a Samsonite with hundreds of (and we mean this very, very relatively) cheap handsets. ®
* 6.625 per cent? They don't know they're born.
Similar topics