Remote control and support outfit TeamViewer is turning off connection checking for its freebie product as more and more of its customers find themselves suddenly working from home.
TeamViewer is a handy tool that allows users to take control of a remote machine for purposes of support or remote working.
Of course, the internet being the internet, people have found other uses for it over which we will draw a veil (and advise avoiding #teamviewer in Twitter or risk some highly NSFW suggestions popping up in your timeline).
The software, which boasts over 2 billion devices connected (and up to 45 million devices online at the same time), has a few options – the £31.90/month single user business licence, £59.90/month for multiple users sharing one session, and three sessions for £119.90/month. The gang will also charge £10.90/month for individuals needing remote access. Billed annually.
Those prices are somewhat out of reach for many, which is why the company makes the product "100 per cent free for personal users". Yup – you too can work out what malware Grandpa has managed to smear over his PC and TeamViewer won't charge you a penny.
At least that is the theory.
The company is keen to avoid commercial customers running on that freebie licence and is therefore on the lookout for "unusual and/or conspicuous user behaviour."
While this is understandable to a certain extent, users on the company's own forums have complained for years about the software slamming down the shutters over suspected commercial usage, and the time taken to get things unlocked again.
That rumbling has reached a crescendo in recent weeks as users, finding themselves working from home, have turned to TeamViewer only to be faced by the dread "detected commercial usage" message.
One afflicted Register reader told us: "After an update I was confronted with this issue of the software apparently detecting 'commercial usage'.
"Today I booted my iMac for the first time in a couple of weeks and found this issue despite the fact that I haven't attempted to use TeamViewer for several weeks."
Professing frustration at the "hit-and-miss response to tickets submitted via the TeamViewer site," our reader declared it was time to seek alternatives rather than risk body and soul with some in-person assistance.
The Register spoke to TeamViewer and was told by a spokesperson that the company had managed to get response times for the majority of tickets down to one or two days (which will come as a delight to those wailing in its forums).
However, that response time could well be made redundant as the company confirmed that it would be turning off the commercial checks for personal licences "in the light of the Corona crisis."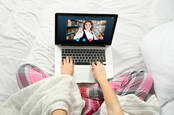 Zoom goes boom, Teams tears at seams: Technology stumbles at the first hurdle for this homeworking malarkey
READ MORE
"We have stopped checking connections for commercial use in heavily affected regions like China and Italy already some weeks ago and are currently implementing that for lots of other affected countries including UK."
As other services (*cough* Teams *cough*) will attest, maintaining performance as usage surges can be a challenge: "We first wanted to make sure that our infrastructure is scaled up enough to keep up with the increased load until we allow much more free connections at the same time."
TeamViewer is by no means the only option. Remote control is also possible through the likes of Zoom, which has enjoyed massive growth in recent weeks. Still, the company insisted that its largesse is altruistic, telling us: "We want to support individuals in this global crisis to communicate and work remotely without any extra cost."
If you're a corporate customer, however, the gang would very much like you to keep paying those bills, OK? ®