This article is more than 1 year old
Damn you, coronavirus. Damn you. Now you've gone too far: James Webb Space Telescope, Moon mission work paused
Including effort to land first woman on the lunar surface
NASA has temporarily suspended operations for its James Webb Space Telescope – and halted testing of its Space Launch System, a rocket due to send astronauts to the Moon by 2024 – amid the COVID-19 coronavirus pandemic.
Lockdown measures are in place across California, as well various other US states and countries, and that's not a problem for NASA folks who just need a computer and internet access to work on projects. But for engineers told to stay home for their own safety, and who need to be on-site to manufacture parts or run physical tests on equipment, their work has been put on ice for the time being, and that could push back programs.
Case in point: scientists working on the James Webb Space Telescope are predominantly based in California, where Governor Gavin Newsom has ordered all of its residents – nearly 40 million total – to stay home as much as possible for the foreseeable future. As such work on the project has been paused. A deadline for experimental proposals for the observatory has been pushed back to the end of May.
"We are going to take care of our people. That's our first priority," said NASA Administrator Jim Bridenstine earlier this month.
"Technology allows us to do a lot of what we need to do remotely, but, where hands-on work is required, it is difficult or impossible to comply with CDC [the US government's Centers for Disease Control and Prevention] guidelines while processing spaceflight hardware, and where we can't safely do that we're going to have to suspend work and focus on the mission critical activities."
This is not good news for the mega-delayed James Webb Space Telescope. The infrared observatory, planned to be a successor to the aging Hubble Space Telescope, was expected to launch in 2007 when first pitched. But a major redesign, increasing costs, and botched test deployments knocked back repeated attempts to send the thing into space. Now, thirteen years later, the telescope faces another series of setbacks as the world combats the coronavirus pandemic.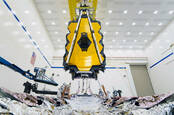 Behind time and way over budget, but the James Webb Space Telescope has finally been put together
READ MORE
The telescope is right now sitting in a clean room, and was expected to launch on March 30, 2021. However, an audit [PDF] earlier this year suggested even then the project had a 12 per cent chance of hitting that target.
The global pandemic also spells bad news for the Artemis program, an international effort led by NASA to send the first woman and next man to the Moon by 2024. NASA said work continues with "limited production of hardware and software for NASA's Space Launch System (SLS) rocket."
NASA has, though, temporarily shut down the John C. Stennis Space Center in Mississippi, making it impossible to test the SLS. The Michoud Assembly Facility, in New Orleans, has also temporarily closed so parts for the Orion spacecraft, which sits atop of the SLS and can house and support up to six astronauts, cannot be put together.
An employee working at the Stennis Center tested positive for COVID-19 as has someone at the Kennedy Space Center in Florida; there have been no confirmed cases at the Michoud Assembly Facility. After the outbreak blows over, NASA hopes to eventually attach the Orion spacepod onto the SLS for testing.
The only missions that have been given the green light to continue is NASA's Mars 2020 mission, which includes its Perseverance Rover and Mars Helicopter. Both bits of equipment are expected to leave terra firm for the Red Planet in July.
Here's how to survive isolation, according to astronauts
Meanwhile, if you're going stir crazy from being cooped up at home, NASA astronauts have been sharing their advice: social distancing for them meant being 254 miles (408,773 meters) up and away from the rest of human civilization, much further than the six feet (1.83 metres) recommended by the CDC.
Anne McClain, who spent over 203 days in the International Space Station, recommended sharpening five different skills to help you and others around you living in confined conditions.
These included: strong communication, clear leadership and followership roles, accepting responsibility, practicing self-care and team care, and improving group living conditions.
"We are all astronauts on planet Earth together," she tweeted. "We'll be successful in confinement if we are intentional about our actions and deliberate about caring for our teams." ®