UPDATED NASSCOM – India's peak body for the IT and business process outsourcing industries – has advised its members to read the fine print in their services contracts so they understand the implications of a long lockdown that leaves them unable to deliver.
The National Association of Software and Service Companies (NASSCOM) is an influential body in India as its members include both the country's outsourcing giants and global concerns that have made big investments in India, such as IBM, DXC and Google. NASSCOM claims a symbiotic relationship with India's government in terms of policy development and industry promotion.
With India in national lockdown, it's therefore no surprise that the association's guidance, issued [PDF] on Sunday, recommends "in the next 2-3 days, please shift all equipment (desktops etc) from your offices as necessary to enable your employees to work from home. Test all the networks and preparedness to ensure business continuity. Do keep your clients updated on all the steps you are taking to ensure confidentiality as per the terms of your contract."
The guidance is mostly positive and sensible: it recognises that some staff will need to break India's national curfew in order to keep technology services and infrastructure running and advises seeking curfew exemptions only for mission-critical work. And it recommends that staff asked to attend the office be told "why their contribution is important and how the organization is looking after their safety and health" and offered escalation procedures so that staff feel safe.
The association also advises checking customer contracts – or asking customers to make sure they're happy to have some of their data and/or systems accessed at workers' homes.
But its fifth point of advice could get customers nervous:
"This situation being a potentially extended one with possibility of complete lockdown, companies are advised to consult their legal experts and examine all contractual clauses including force majeure applicability to their customers."
Which is sound advice. But also – yikes!
The Register has searched for continuity information from HCL, Infosys, Tata Consulting Services and Tech Mahindra, and asked all to explain the continuity plans they're offering clients.
A statement sent to The Register by Tech Mahindra quoted MD and CEO CP Gurnani as saying: "We are also putting a robust business continuity plan – powered by next-generation technologies – in place to combat the situation, while ensuring safety of all." No detail on that plan was offered.
Wipro's site offers a detailed outline dated March 20, spelling out four levels of work-from-home security on offer to clients and the requirement for customers to approve adoption.
HCL's March 12 advice says it has invoked its contingency plan but doesn't offer specific guidance to customers.
Infosys told it has "has well-defined disaster recovery and business continuity plans at various levels. We also have a comprehensive pandemics response plan which is based on WHO and local government recommendations.
The company has also published a new statement that says "We appreciate the urgent need of clients counting on us to drive business-critical functions for them, and not all these tasks can be executed from remote locations."
"Fully committing to our clients' priorities, in the spirit of true partnership, we have prepared our workspaces and our teams to deliver by invoking detailed and account-specific business continuity plans. We are managing the recent lockdown-induced disruption to citizen mobility responsibly. The support that the government in India is extending to the IT industry, including granting exceptions from the lockdown, for key personnel delivering essential and mission-critical services to our clients, is going a long way in helping us be purposeful."
We're yet to hear from Tata.
The Register will update this story if we learn more from the five mentioned outsourcers, NASSCOM, or other service providers. ®
Bootnote: While preparing this story we searched big outsourcers' sites for relevant terms.
Infosys's site produced the blackly amusing suggestion we should search for "Automation" instead of "coronavirus".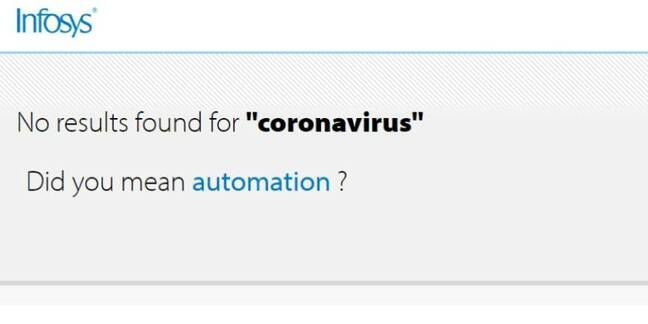 Click to enlarge