In late 2018, Shenzhen startup Royole released the world's first commercially available foldable phone – the Royole Flexpai. Reviews weren't great, with one journo describing it as "charmingly awful". It only really entered the public consciousness due to the antics of Escobar Inc, which rebadged the Flexpai and sold it for £300. None were actually delivered.
Nonetheless, Royole isn't deterred, following it up with the Royole Flexpai 2. Most of the attention has been slathered on the firm's Cicada Wing display, which has received a major upgrade. The most obvious change is the fold radius, which now measures just 1mm.
This means the device will be flatter when folded, thereby reducing the footprint in your pocket. Early pholdables tended to have a larger fold radius, with the first-generation Flexpai and Galaxy Folds awkwardly bulging when closed.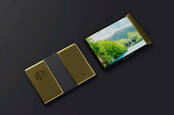 Escobar Fold 1 snort all it's cracked up to be: Readers finger similarity to slated Chinese mobe
READ MORE
Royole said the Flexpai 2's new Cicada Wing display is 50 per cent brighter than the previous generation, and packs a JNCD (just noticeable colour difference) below 0.6.
The form factor is unchanged. It's a 7.7-inch tablet that folds into a phone, rather than the clamshell design offered by the Razr and Galaxy Z Flip. Core specs are thin on the ground, but we know powering it is Qualcomm's new Snapdragon 865 platform, which comes with a 5G radio. There's also an unspecified amount of LPDDR5 RAM and UFS 3.0 storage.
The Flexpai 2 will arrive later this year, but it's likely the core tech will be licensed by other firms who want to jump on the foldable bandwagon. Royole already said it has entered a strategic partnership with Chinese mobile giant ZTE, which is no stranger to experimental display tech (the Axon M being a great example).
It's likely ZTE won't limit itself to mobile phones, with a press release suggesting future experiments with "smart terminal devices and other fields".
In a statement, Royole founder and CEO Bill Liu said: "Royole and ZTE will collaborate for innovative applications of fully flexible display technology and we look forward to supporting ZTE to create innovative foldable smartphones that fully utilize the advantages of Royole's leading flexible solutions."
Feng Xu, senior vice president of ZTE Corporation and president of ZTE Mobile Devices, must have won a game of buzzword bingo with this classically awful paragraph.
"We are really enthusiastic with the new strategic partnership with Royole. Focusing on the smart communication technology and advanced video technology in the 5G era, ZTE, together with Royole will explore the innovative applications of the fully flexible display technology in mobile devices, to deliver a new user experience." ®
Similar topics