Online sales at Dixons Carphone shot up as Brits began preparing en masse to work from home by shelling out on notebooks, printers and – to keep the kids happy – games consoles, in response to the spread of COVID-19.
The retailer said web-based sales soared 72 per cent year-on-year in the first three weeks of March, with shoppers also buying up TVs, fridges, freezers and other kitchen appliances as they prepared to batten down the hatches for the next few months.
UK and Ireland Electricals were up 35 per cent in total during the three weeks to 21 March, including the online bounce, Dixons said today. International sales were up 8 per cent in comparison. Overall, group electrical sales jumped 23 per cent.
"Online trading has been very strong in all countries over the last two weeks as people have been preparing to work from home and use essential technology to continue their lives during the coronavirus outbreak," said Dixons.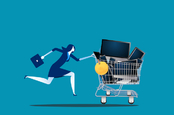 Thought you'd go online to buy better laptop for home working? Too bad, UK. So did everyone. Laptops, monitors and WLANs fly off shelves
READ MORE
As of the evening of 23 March, UK prime minister Boris Johnson ordered a lockdown across the country that forced the closure of all non-essential shops, including Dixons'.
"Early signs are that this strong [online] trading has continued since stores closed and will help to compensate for lost sales," the company added today.
The one area of Dixons that continues to struggle – as evidenced by last week's dramatic confirmation that 531 standalone Carphone Warehouse stores are to be closed and 2,900 roles made redundant – is mobile, down 23 per cent in the three weeks to 21 March and down 15 per cent for the 11 weeks to that date.
For those 11 weeks, the group grew revenue 4 per cent: UK and Ireland Electricals were up 10 per cent, including a 23 per cent hike in Online; International was up 5 per cent; Electricals was up 8 per cent in total.
Now begins the long hard slog by Dixons to compete with web retail monsters including Amazon. Dixons' bricks-and-mortar stores were forecast to bring in £400m in sales for the rest of its financial year and though it has hopes for etailing, "overall the loss of sales will adversely impact our full-year profitability and cash position".
Cash will be "preserved" to a degree with costs clipped by about £200m a year from the government's suspension of business rates and support of employees wages, with up to £2,500 paid by the state for staff that have been laid off.
Dixons said it will also use "discretionary spend controls" to cut marketing and other overheads, has reduced stock ordering, will defer VAT as agreed with the government and may not pay a final dividend to shareholders. The company has two revolving credit facilities and said it has "sufficient funding capacity".
Buckle up, Dixons. It is going to get bumpy. ®
Similar topics